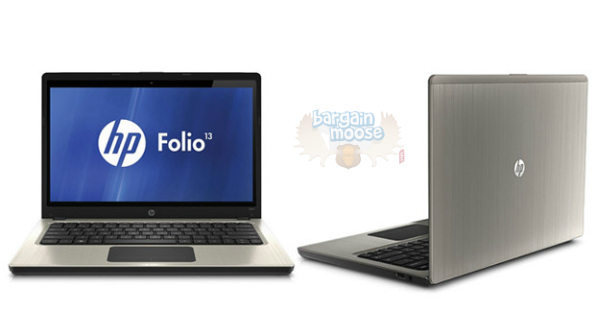 Ever since Apple came out with it's amazingly popular MacBook Air every other computer manufacturer has been trying to match them. HP is one of them and Amazon has a great deal on a 13.3" MacBook Air competitor.
I don't normally put reviews on my write ups (much to the chagrin of Bargainmoose's dear leader, I'm sure) but there is one on this UltraBook that I think is very good. The person who did it really has a good grasp of the product it seems so I thought I'd let them tell you about it.
I love this laptop.

I did all the research and this one fit all my requirements for speed, portability and battery life. Boot up time is very fast. It's extremely light yet sturdy feeling. Battery lasts me an entire work day - I no longer need to bring my power charger with me. I strongly dislike the Canadian keyboard layout with the French characters and a shortened left shift button but this is not HP's fault. The track pad could also use some improvement. I would have liked some type of tactile indicator of where my left and right mouse button are. I know it is a trend now combining the mouse buttons with the actual track pad similar to the Mac laptops but it shouldn't be this way since Windows users need to use the left and right mouse buttons. I read a lot of users complaining that this laptop isn't as pretty as the other Ultrabooks out there but I beg to differ. It looks and feels clean and elegant.

Buy it!
So I think that really said everything you need to know about it. It has two ratings but both are 5 star and both have good things to say about it. The quick rundown of specs are as follows:
Core? i5-2467M
4GB DDR3
128GB SSD
Intel® HD Graphics 3000
802.11a/b/g/n + BT + WiDi
Not much to mention there but the inclusion of WiDi, I though, was very cool. As usual shipping is free from Amazon so if you're looking a super thin, super light UltraBook, pick one up. Pick up two. Pick up three!! Or just pick up one... Either way, I suppose.
(Expires: 4th June 2012)