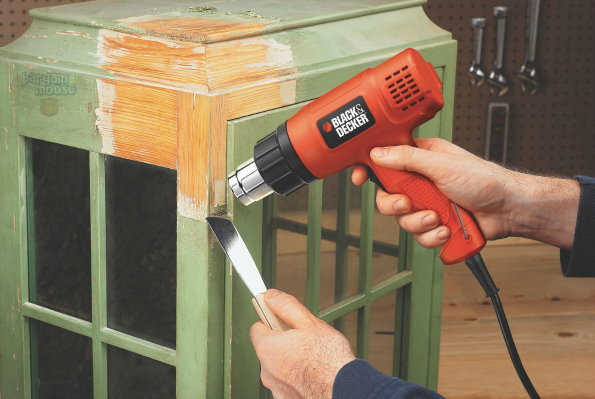 Amazon.ca has discounted the Black & Decker Dual Temperature Heat Gun from $62.27 down to $19.99. While I think this 'original' price is a bit of a stretch, this is the cheapest price I could find this heat gun for online.
Finding this Black & Decker heat gun in Canada was difficult. The only other place in Canada that had the gun was Walmart, and they are selling it for $29.94. I checked out Lowes Canada, but their closest option was the HomeRight Dual Temperature Heat Gun for $24.99. It is not the same brand and it is not a brand I recognize either.
I turned to the USA for a little price checking. At Home Depot I found the same heat gun for $29.97 USD. Amazon.com also has the same heat gun for $34.99 USD. Given that our exchange rate adds on around 20% onto each of those prices, I figured that the deal at Amazon Canada was well worth blogging about.
The Black & Decker HG1300 Dual Temperature Heat Gun has 2 temperature settings: 750 degrees and 1000 degrees. I may be a carpenter's daughter, but it does not mean I am familiar with all tools. Thus, I had to look up what a heat gun can do, as my father never used them. Evidently, the heat gun can be used for stripping paint and varnish, loosening rusted nuts and bolts, thaw frozen pipes, and quick dry most anything. I would think it could also melt anything you need as well.
I like that it has two different temperatures. I am sure that different jobs call for more or less heat. If you live in a snowy climate, this can have all kinds of uses as well related to ice and snow. Being a prairie girl, I immediately thought that this gun would be great for thawing out your car's keyhole when one of those brutal driving rains and then freezing create an ice buildup in your lock.
The heat gun has a built-in stand that you prop the gun up on so it can cool down faster. The heat gun is fairly lightweight and compact. It also looks to have a very comfortable grip for prolonged use. True to Black & Decker colours, the body is orange with black accents.
Receive free shipping with orders of $25 or more.
(Expiry: unknown)