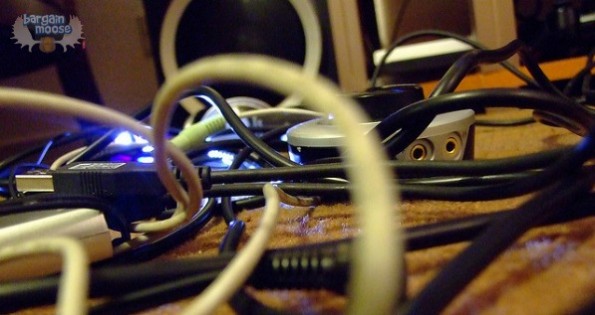 I am always filling up my hard drive with photos and downloads.  Not any more with this deal from Amazon.ca:  Seagate Expansion 4TB Desktop External Hard Drive USB 3.0 on sale for only $145.98 (Reg. $397.99)!
Let's talk about user friendliness.  This external hard drive is automatically recognized by Windows, so there is no software installation required.   It is as easy as opening the box, plugging in two cords, and you're running.  I am fully computer literate, but I do sometimes have a hard time installing hardware.  The ease of installing this device really appeals to me.  It's really just plug and play.
As Amazon.ca's #1 best seller in external hard drives, Seagate's model offers a 4TB capacity.  Again, hardware isn't my thing, so I didn't really have a great concept of what that meant in layman's terms.  Here is an example of the type of storage capacity we're talking about:
Up to 3000 hours of digital video
Up to 750 2 hour DVD movies
Up to 960 000 digital photos
Up to 49 980 hours of digital music
I think it's possible that even I would have a hard time filling up that bad boy.  Compatible operating systems are Windows 8, Windows 7, Windows Vista, and Windows XP SP3 (32-bit and 64-bit).
Now I live out in the middle of nowhere.  I had no choice but to get wireless internet, and the reception within my house is spotty at best.  I'm often isolated in the office with my laptop, but often my family wants to watch a downloaded movie in the living room or bedroom, which involves a lot of work getting said movie from my computer to another device.  With an external hard drive, I would literally be able to unplug the 2 cords from one computer and pop them into another for a smooth transfer.  Easy peasy.  The unit is also compact in size, making for easy storage.
As far as comparison is concerned, I found the same external hard drive over tigerdirect.ca for $164.97.  Both Best Buyand Future Shopare selling the unit for $169.99.  On top of the low price, since this item is over $25, you automatically qualify for free super saver shipping at Amazon.ca.
We don't know when this deal ends, so act fast!
(Expiry unknown)
(Photo credit: Stuart Anhtony)