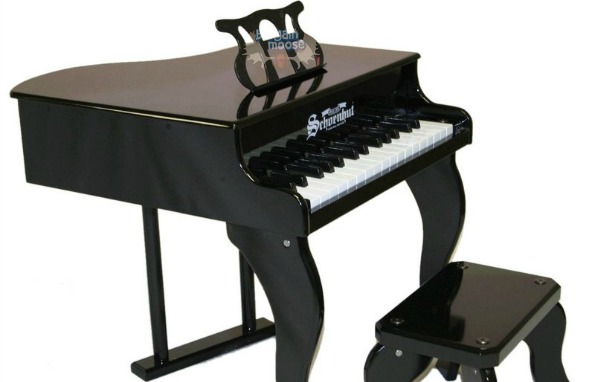 If you want to get your music-inclined child an amazing gift, check out this Schoenhut Baby Grand Piano, now on for $159.99, was $184.99. Also, you'd think a large item like this might cost quite a bit in shipping, but it ships for free!
Made for age 3-7, this piano is gorgeous with curved legs and comes in white, black or pink. It is durable as well, as we know toddlers and young children can be rough of their stuff. This piano is the perfect way to introduce your child to music before switching to a larger model.
I priced compared this model of piano and couldn't find it for less than $200 and Amazon even has it for $239. There are over 100 reviews on Amazon and it is given an overall 4.5 stars, which is pretty great! One reviewer said:
This little grand piano is beautiful and will make a very nice gift for your budding Mozart. I don't think toddlers will care that it's so sturdy, shiny, and pretty; they'll just want to bang away at the keys. The sound is like every other cheap toy piano - loud, high, and tinny, but it's for fun and who knows where it can lead?
(Expiry: Unknown)