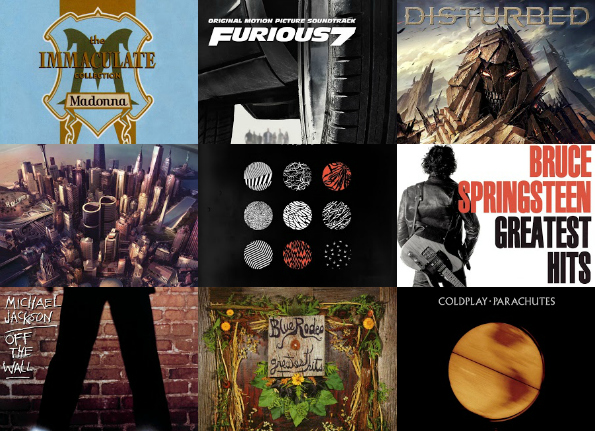 I am a music lover so this sale has me just WILD with joy! Google Play Canada has 30 albums on sale for just 99¢ each! Pick up full albums for less than the price of one song from popular artists such as Michael Jackson, Bruce Springsteen, Green Day, and more.
Usually, you are lucky to get one album for 99¢ each week as they do an album of the week that is either 99¢ or free. Therefore, an opportunity like this doesn't come around that often. I think this offer comes at a great time: many Moosers are spending early mornings or late nights at the gym trying to get fit. Music is one of the best motivators as it makes you work harder and last longer. You are probably bored of all your current music already and this deal gives you the option of downloading new music to enjoy and listen to while working out. Each album costs you less than a cup of coffee!
Everyone is going to have their own favourites among this sale. Hands down, my favourite has to be the new Disturbed Immortalizedalbum. I have been listening to it non-stop on Spotify and know that I will be buying the complete album ASAP. It is one of the best albums they have EVER released. Their cover of The Sound of Silence is incredibly haunting.
I own so little by the queen of music, Madonna, and now is the time to rectify that. Her album The Immaculate Collection is on sale for just 99¢. This album contains 17 songs so you are really getting your money's worth. Green Day was an angst band of my youth that really spoke to me. Their Dookie (U.S. Version) album is also included in this sale.
I am not terribly familiar with any of the other albums but I did notice some greatest hits albums for renowned artists. Bruce Springsteen - Greatest Hits and Neil Young - Greatest Hits are included in this sale. These are oldies that have stood the test of time.
For new music (Disturbed's album is new), you can check out the Furious 7: Original Motion Picture Soundtrack that was released less than a year ago. This is a compilation album by various artists but it has a decidedly rap / hip-hop feel.
 (Expiry: Unknown)