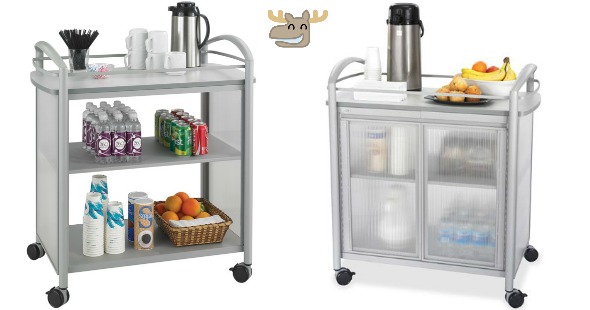 If you need a new beverage cart or even a potential microwave stand, then you're going to want to shop at Amazon Canada and enjoy this deal. While stock is available, you can take 81% off this Safco Products Impromptu Beverage Cart and pay just $98.17. You will even get free shipping.
Before you ask, no the original price of this Amazon Canada sale is not inflated. I looked around and that is the regular price of this Safco Products Impromptu Beverage cart. So if you need a good beverage trolley, then this might be your best bet. The Safco Products Impromptu Beverage Cart was originally $526.89, but for a limited time (probably very limited time) you can score this item for just $98.17 including your shipping costs from Amazon.ca.
Unfortunately only the gray model is available at this price. If you select black as your option, the price shoots back up to the original $526.89. This beverage cart does have a steel frame, so maybe it will match your decor either way. It also has side panels that are that nice translucent polycarbonate material so you can see what is inside the cart, but it will have that blurred effect. You can store your bottled water, kettle, or whatever you like in there. The top shelf can hold 100 pounds so the opportunities are endless. Personally I would use this cart for my Keurig. I can keep the machine on top, and keep all my K-Cups underneath as well as my bottled water and that kind of stuff. I could also keep my fruit bowl on top.
You could also use this shelf for the office lunch room. The review on Amazon Canada states that it was excellent for their lunch room and conference room, but that the assembly instructions could have been more clear. I guess this may have been a deceiving case of "easy assembly" like we see from Ikea. But take your time and put this piece together, I am sure it will be worth it.
This item is shipped and sold by Amazon Canada, which means you will get free shipping. Amazon.ca offers free shipping on all items over $25, lucky you! I am sure the shipping and handling charges on an item of this size would be killer. This laminate top of this cart will measure 34 inches by 17 inches, so make sure it suits your needs before you make the purchase
Moosers, what would you use this stand for?
(Expiry: Unknown)