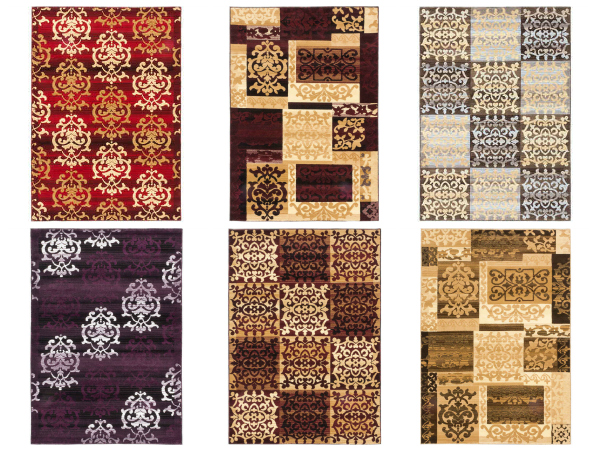 If you have hardwood or faux hardwood floor then you know how cold the floor gets during the winter. Keep your feet warm with a few throw rugs. Shop.ca currently has a nice selection of 3'11" x 5'3" carpets on sale from $171 down to $46 each with free shipping. You save $125 per carpet.
Each rug features an attractive pattern with beige, golds, reds, and purples to suit your fancy. I am pretty partial to purple as it is such a beautiful colour. I am torn between the eCarpetGallery Power Loomed Crown Beige, Burgundy Rug - 3'11" x 5'3" and the eCarpetGallery Power Loomed Crown Black, Purple Rug - 3'11" x 5'3". I think the black/purple is more my favourite as I am not terribly fond of beige. The crown pattern is really nice and reminds me of the Damask print.
For Christmas, I think this eCarpetGallery Power Loomed Crown Red Rug - 3'11" x 5'3" is a gorgeous addition to your home decor, The red picks up one of the most popular colours of the season while the gold reminds me of tinsel on a tree. I like how this rug would be fantastic for Christmas yet it is not so Christmas-y that you could not use it all year around.
TheeCarpetGallery Power Loomed Crown Beige, Cream Rug - 3'11" x 5'3" actually looks to have some green highlights in it if the picture online is a true representation of the rug. I hope this is the case because the green is a really nice contrast to the beige.
While green and red are traditional for the holiday season, I really like the trees that are done up in all silver or all gold. This eCarpetGallery Power Loomed Crown Dark Brown, Light Gold Rug - 3'11" x 5'3" reminds me of those Christmas trees. I could also totally see this working in a bathroom or beside the bed so that when you get out of bed in the morning, your feet land on soft rug instead of hard floor.
There are a couple other rugs available at this price range. Given that rugs are legendarily expensive - even throw rugs - I think this is a great deal. Pick up one for your front entry, bedroom, bathroom, and more.
If you happen to be spending more than $150 at Shop.ca, then don't forget to use our exclusive coupons for extra discount!
(Expiry: Unknown)