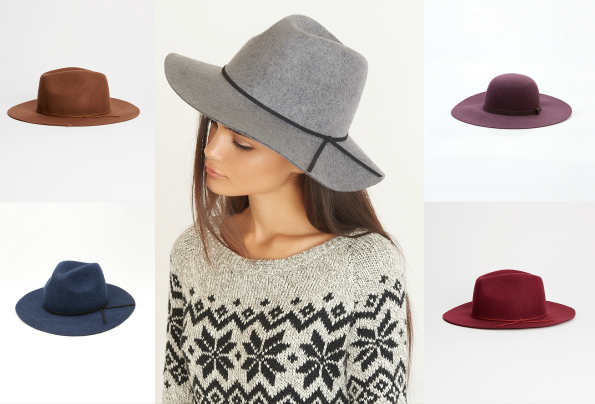 Winter is coming but that does not mean that you need to stick a terribly unstylish winter hat on your head to keep warm. Instead, check out these wool fedoras on sale right now at Garage Canada. Originally $36.95, each wool fedora is now on sale for $10 with free shipping.
There are an array of colours to match your personal wardrobe. First, you can pick up a navy or a grey wool fedora with a wide brim and black accenting tie. For autumn colours, check out the dark brown wool fedora and the burgundy fedora. That gives you four different colour options.
All of these fedoras are made with 100% wool for a warm, yet breathable hat. That is probably why I like these hats so much - I am such a big fan of wool because it gets warmer when it gets wet. Thus, these hats are perfect for wearing out on a snowy day when a few melted flakes on your hat will only keep you warmer.
The fedora was made famous by Indiana Jones and these fun hats are a feminine take on the classic adventurer's hat. Indiana Jones is a pretty awesome guy, and he is exactly the reason that I purchased a fedora for myself a couple years ago. At 73% off with free shipping, I could not resist sharing this hat deal with you.
There is another sweet hat deal that I wanted to mention as well because it is an even higher discount but there is only one colour at this price. The Floppy Fedora Hat in burgundy was $39.95 but now on sale for just $10 as well. This is a less structured style that is still made of 100% wool for a warm and toasty experience.
As I have mentioned before, wool is such an amazing fabric because it is super warm and yet breathable. I wear a lot of wool in the winter because it is so much warmer than cotton or acrylic. Wool toques, hats, and undershirts are some of my favourite winter pieces. These stylish hats are a great alternative to a toque when you are going out for a nice dinner or to a business meeting.
(Expiry: Unknown)