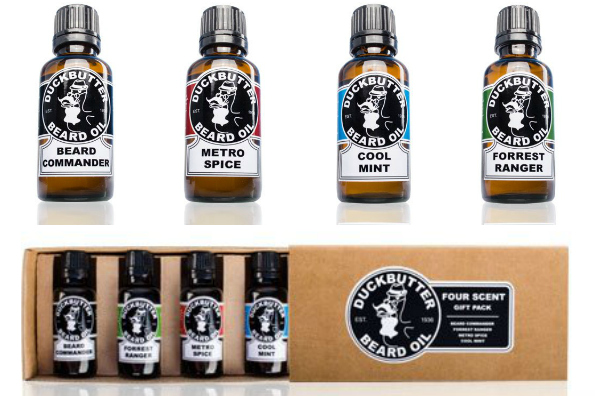 Does your man have a beard? Could that beard use some love and care? Check out this gorgeous deal on the Duck Butter Beard Oil - Natural & Organic 4-Pack Boxed Gift Set. Originally $129.95, this set is now on sale for $34.95. Receive free shipping on your order as well as this is fulfilled by Amazon Canada.
Let us talk beard oil. I am very familiar with beard oil - funny enough - as I have a dear friend with a well-groomed beard. These beard oils use a base that includes Jojoba, Almond, Grapeseed, and Castor Oils as well as Natural Vitamin E. Base oils nourish and carry the essential oils into the hair. Each scent has a different set of essential oils to produce a different aroma:
Beard Commander – the original manly scent
Forrest Ranger – a subtle natural evergreen scent
Metro Spice – a spicy citrus scent with a touch of clove
Cool Mint – a refreshing minty blend
You will receive four bottles of beard oil that measure 1 oz - 30 ml - each. This is a pretty standard size for beard oil these days and they will last a long time. You only use a dime size amount on your beard each day after a hot shower when your pores are most open and ready to receive the oil. Turn that bush of bristles into a soft, sleep manly beard.
This is sold by a Marketplace seller but fulfilled by Amazon Canada. You will need to select it via the right side menu here: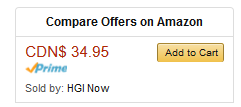 Let us sort out price for a minute. The original price is not that very inflated. I help a friend of mine find good beard oils all the time and places like Mammoth Beard Co. (Canadian) sell 1 oz of beard oil for $26.99 and Better Beard Company (Canadian) sells 1 oz beard oils for $25. That is pretty much the going rate for one bottle of good quality, all natural beard oil. You are getting four 1 oz bottles (4 oz) for only $35 - that is pretty hot.
The reviews on the set are pretty awesome as well. Most men are super happy with the performance of the oils. They say that the oils are nourishing and make their beard softer. They also seem to like the scents: though that is personal taste. The scent lingers for a few hours but is not overly powerful.
(Expiry: Unknown)