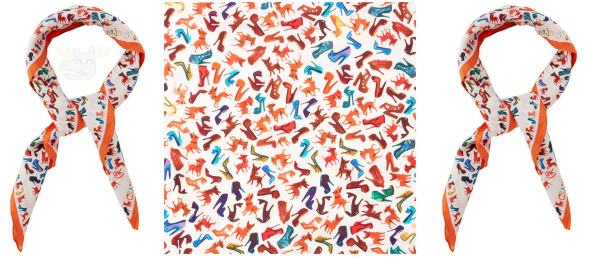 I am a MASSIVE fan of silk. Silk is an incredible material made from the cocoons of silk worms. It is strong, soft, silky, and decadent. It also tends to be very expensive. Right now you can purchase a Shoes Print Silk Scarf on sale from $100 down to just $30 at Chapters indigo Canada. As the scarf is over $25, you will also receive free shipping.
This is a decadent gift for the ladies in the house. Do you want to give your lovely mate a surprise gift? Then pick up a 34" x 34" 100% silk luxury scarf. The scarf is made by artist Izak Zanou who got his start designing scarves for the fashion house Celine.
the scarf is perfect for the shoe-lover in your circle of friend, family, and lovers. The 100% silk scarf showcases some rather fierce high-heel shoes in a variety of funky designs. Upon closer look at the pattern, I noticed a few dogs scattered amongst the design.
Now, there were two other designs in this scarf - Happy and Paris - but both sold out when they were only 50% off - so for $50 each. You can easily see why I think this scarf at 70% off is quite the deal. You are paying $20 less for the same product, just a different design.
Christmas is coming in a few short months and this scarf might make a very nice and thoughtful gift for a family member. While I rarely wear scarves these days (except for winter ones), my mother really likes scarves. There is nothing more luxurious than a 100% pure silk scarf. It is 100 times better than a cotton scarf, synthetic scarf, or chiffon scarf. Seriously, these scarves are incredible.
Given that this designer used to design scarves for Celine (wow) and you can now pick up one of his scarves for only $30 with free shipping, I could not resist sharing this deal.
(Expiry: Unknown)