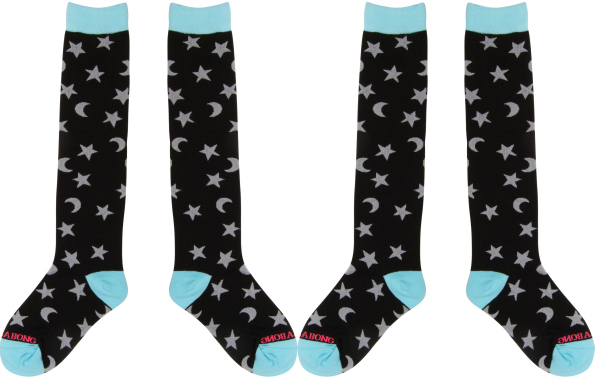 I thought I would start this morning off with a great little deal for a wardrobe essential: socks. While browsing the Billabong website, I noticed these cute women's upward dancing socks on sale from $10 down to just $3 a pair. That is 70% off the original price and you receive free shipping - it just seemed like a natural deal.
I am always in for cute socks at a great price and these are even knee-high socks, which certainly add to their value. I always try to buy quality socks as they get such abuse on the bottom of my feet. Not only do I tend to slide my feet in the house - they also get plenty of abuse from going in and out of boots - where I scrape up the heel coming in and out. Boots: it is winter and boots are certainly my first choice for footwear. I love knee high socks because they work like a boot sock and are high enough to protect my entire leg from coming in contact with the inside of boot. As my colleague Brooke said:
Oh! Knee high socks are great. I wear them with my winter boots and rubber boots because NOTHING is worse than walking and losing a sock inside your boot. You know that feeling when it starts to slip? When it pops over your heel and crumples up under your foot is the worst feeling. Ever.
My boots are mostly made of leather and leather is awfully cold in the winter. I am still trying to break in a pair of leather boots I have, so padding is of utmost importance while loosening up the leather. I have had them stretched twice but forgot to wear them for a few days after so the leather tightened back up. I am going to work on stretching them myself: just wear a pair of knee-high socks with them for a couple hours a day - every day. That should work.
These knee-high socks have pretty stars and moons all over them. I think they are cute and will probably be picking up a pair or two right after I tell you about this deal. At 70% off, I can pick up three pairs and still pay less than the original price for one pair. These are one size fits all.
(Expiry: Unknown)