7-Foot Tall Unicorn Sprinkler for $71.95 with Code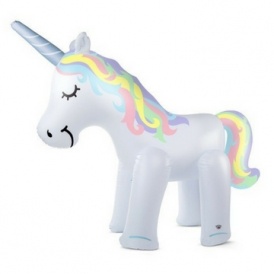 Update: this unicorn is currently out of stock, but we'll let you know when it's back!
If you've ever wanted a unicorn of your own that you can keep in the backyard, this might be your chance!
Chapters Indigo finally restocked the BigMouth Unicorn Sprinkler, and you can pick one up on sale this month!
To grab one of these sprinklers on sale, all you need to do is enter the code JUNESUN at checkout, and you'll get 10% off almost any order over $50 – which brings this unicorn down to $71.95 from $79.95!
I'm already calling it. This is going to be one of the toys of the summer, so you might as well get one before they sell out again!
And just in case unicorns aren't quite your thing, you can also get a Dinosaur Sprinkler or an Elephant Sprinkler on sale with the same code!
Your order will ship for free from Chapters Indigo.