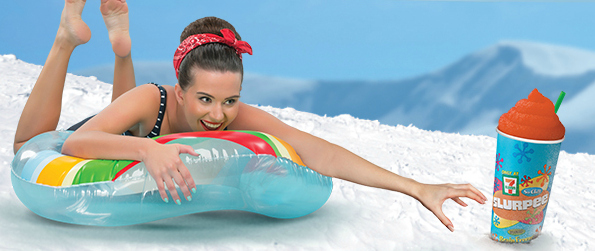 7-Eleven is celebrating backwards day tomorrow, on Saturday the 7th of November, which is '11-7'. Wear your swimsuit (it is a reverse kind of day) and get a FREE medium Slurpee this Saturday. It may be frigid in your neck of the country so layer up and just flash a little swimsuit when you hit the checkout counter.
I am all for free food, but OMG - they seriously think people are going to wear a swimsuit in November?! Temperatures across the country are generally hovering around 10 degrees or so most mornings. I wouldn't be caught dead out in just a swimsuit these days! I think they are nuts, but I am too! It is actually a pretty simple freebie to get.
Just put your swim top or one-piece swimsuit on underneath a chunky hoodie or coat that zips open. Flash the swimsuit at checkout and get your free Slurpee while still staying warm. If you are a surfer, simply This way you can get your free Slurpee and stay warm!
Now, if you have the 7-Eleven app, you can scan your free Slurpee and it will count towards one of the Slurpees you need to buy in order to get every seventh Slurpee free. That is a nice little bonus as you will essentially have had two free Slurpees out of seven.
I am DYING for a Slurpee and it isn't even summer. I would love to try the new Mountain Dew White Out Slurpee as it looks like snow and I certainly feel the snow coming on these days when I find frost on the ground. I am one of those people who can have a Slurpee any time of the year. I just nearly die when I get 'spine freeze'. Some people get brain freeze instead, but mine mainly goes through my back.
As there is a 7-Eleven like a block from my house, I will probably be popping over there in my Wonder Woman swimsuit for a free Slurpee. Hey, if I have to wear my swimsuit in November, I might as well make it an interesting one.
(Expiry: 7th November 2015)