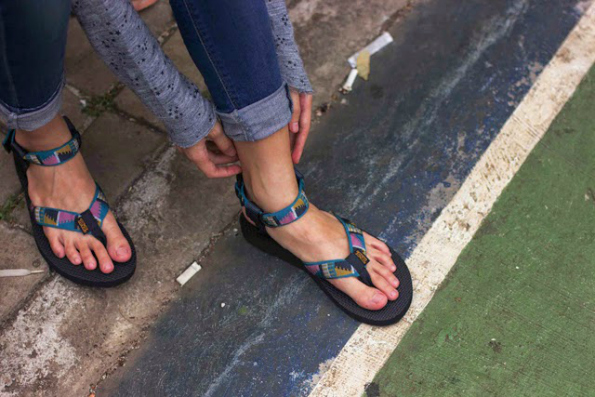 I am STOKED by this deal on Teva Original Sandals for women. I know sandals are so out of season right now, but that is the best time to buy! You get the hottest deals on the best brands. I could not resist sharing this Teva Original Sandals deal at Mountain Equipment Co-op. Originally $49, a pair of Teva Sandals will now run you just $15. On top of that, MEC is offering a rare free shipping with no minimum order so you save an extra $5.
I like to blog deals for items I would - and do - actually buy. This is one of these deals. At 69% off with free shipping, the Teva Original Sandals (Women's) are a great deal. Choose from Azura Purple, Mosaic Vintage Indigo, and Black. As both the purple and the indigo colourways have pretty much all sizes in stock - size 6 to size 11 - any woman can pick up a pair of these shoes in her size.

Teva is one of my favourite footwear brands. The shoes run slightly wide, which is fantastic for wide feet or people who want a little extra room in their shoes. I have wide feet and often have to size up to get a shoe that doesn't turn my feet into sausages. The Teva is a go-to brand for me because of their wider profile. While these are sandals and this is November, these are such a good deal that you will want to throw them into your closet for next spring. Feet do not change size that much once you are an adult, so you can buy shoes out of season with no worries.
One reviewer said:
Nothing beats a classic. Confortable, versatile, and adjustable! Most of my street shoes run 8 to 8.5 but I got these in a 9 for a bit extra toe protection. They've become my go-to sandals. I wear them to work, they're my post-hiking footwear, you name it. The ankle strap is very adjustable for when I'm just around and about or pulling my swollen feet out of my boots after 10 hours in the back country.
While people may think sandals are strictly for summer, they are actually really great in the winter. I wear sandals indoors during the winter as the faux hardwood flooring in my apartment gets really cold during the winter. I can wear the sandals around inside as a barrier between me and the flooring. Honestly, at $15 they are cheaper than most slippers and far better quality.
As mentioned before, MEC is a 'co-op' so membership is required. Membership only costs $5 or you could borrow a friend's card. For the deals you get access to, the lifetime membership fee is well worth it.
(Expiry: 16th November 2015)