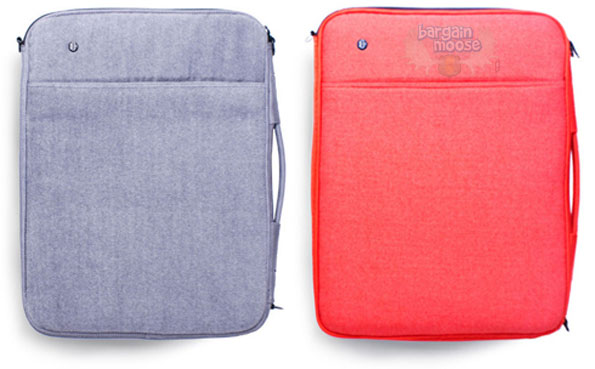 Quick! Head on over to NCIX because for a limited time, you can grab a PKG Stuff universal laptop carry case for just $9.99. There are plenty to choose from, whether for a 10", 11", 13", 14", 15" or 16" laptop and they were originally priced up to $29.99. Shipping is also absolutely free.
Just $10 for a laptop sleeve is actually a very awesome deal. I had a look around for laptop sleeves at Best Buy and the cheapest one I found happens to be the PKG Stuff 13" laptop sleeve in a green/black colour, which is on sale for $18.99 (reg. $19.99) -- not the biggest discount, but hey, it's a discount nonetheless! It does, however, go to prove the awesomeness of NCIX's deal, especially when you factor in the fact that it will be shipped absolutely free.
Depending on the size of your laptop, you could also potentially get it in different colours. For a 15"/16" laptop for instance, you could get a PKG Stuff case in: tweed grey, wooly dark heather, quilted black, or wooly light heather.
I don't have a case for my laptop and I have to say that after writing about this deal, I'm on the verge of getting one for myself because on top of having a sleek appearance, the PKG Stuff cases also includes a large pocket that is zippered and which you can use to store smaller items like a tablet, pens, keys or perhaps even your phone if you're carrying your laptop over to say, the nearest coffee shop to get some work done. In fact, there's even a hidden handle for carrying purpose and you could get the PKG universal straps on sale for just $2.99 right now instead of their  usual price of $9.99. At Staples, a black version of these straps are actually $12.49.
The expiry date on this deal is ever so slightly confusing though because although it says: "save $20 off our regular price of $29.99 if you buy today", next to it, it also says "special price ends soon". So if you're interested in getting a $10 laptop sleeve, then don't wait around as you might miss this deal.
(Expiry: Unknown)