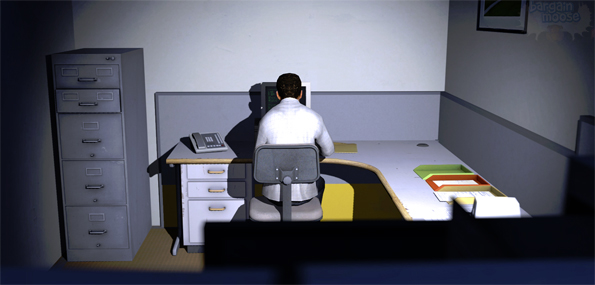 I spotted a deal on Steam for a little indie game called The Stanley Parable. It's currently down to only $5.77CA, a 66% discount on the regular price!
The description of the game is quite intriguing, and captured my imagination:
…is a first person exploration game. You will play as Stanley, and you will not play as Stanley. You will follow a story, you will not follow a story. You will have a choice, you will have no choice. The game will end, the game will never end.
From what I saw, it looked like the "locked room" or "hidden object" type games which I really enjoy to play in my spare time. I instantly bought The Stanley Parable… so thought I should play it for 15 minutes before I started to write this blog post. When I started playing, it almost feels more like one of those "choose your own adventure" type games, as I had to make choices as to which door to go through, and things like that.
Throughout the course of the game, there is a very funny narrating voice, with comments such as:
Stanley stepped into the broom closet, but there was nothing here, so he turned around and got back on track.
I got to the "end" of one story line of the game, and it just restarted back at the start, enabling me to play again and make different choices.
I had a smile on my face the whole time I was playing this little game, it's got a very good sense of dry and witty humour. I've only played it for half an hour so far, but I will be playing it more this evening.
When googling for reviews, The Stanley Parable scores 88% on Metacritic, and 9/10 from over 13k reviews on Steam itself. Some very good scores! IGN states that it is:
…witty, unusual and quietly discomfiting, The Stanley Parable is a successful experiment in interactive narrative.
For less than $6, this is a bargain indie game for a few hours of fun.
(Expiry: 19th October 2014)