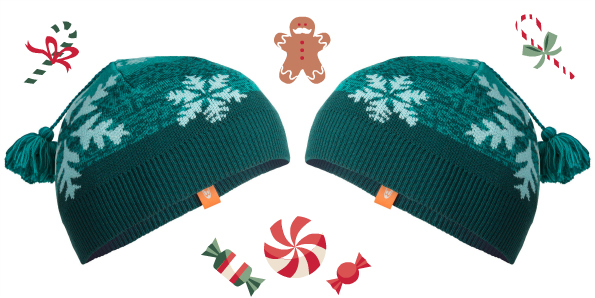 Icebreaker is one of my favourite brands as they make quality outdoor wear and clothing out of merino wool. While wool has a reputation for being somewhat itchy, merino wool is as soft as can be. Wool is celebrated for its warmth that only increases when it gets wet. This cute alpine-inspired Chalet Hat by Icebreaker is made of 100% merino wool. Originally $49.99, the hat is now on sale for $16.99. Use coupon codeRIDETHEMOOSE to receive free shipping: that is a $10 value. In total, you save $33 + $10 = $43 on this high-quality, merino wool toque.
I adore this little hat because I am a girl who likes quality items. Sure, I have bought $10 toques before but they tend to last one season and not much longer. They either get pulls or frayed or look like a dog chewed on them after one season. Icebreaker creates quality items: I know and can say this because I own several pieces from this brand and all of them are 100% merino wool.
As I have mentioned before, merino wool is super warm. That is why I own several pieces from Icebreaker for winter. This is the warmest toque you will probably ever own and yet it is breathable because wool is a natural fibre. If you have ever felt sweat build-up in an acrylic toque, now you know why. Most toques are made of acrylic these days, which is cheap (for cheap toques) and cheap as in not that great of quality.
I also really like the pattern on this toque. It is such a great winter theme hat and a perfect hat for Christmas. The Chalet Hat not only has a snowflake pattern, it also has a cute little pom-pom hanging off. This is a unisex winter hat making it great for women and men alike.
I need to quickly check my own toque collection to see if I need to add a new one in. I think I only have one super warm toque that I would use for sledding but not for daily use. This would be a great daily-use warm winter hat.
(Expiry: unknown)