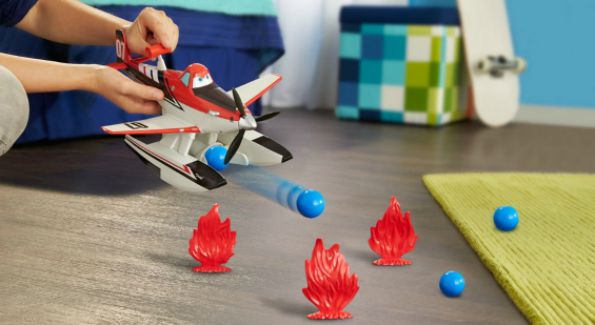 Here is a fantastic toy for all of the Planes fans out there. The Disney Planes Fire and Rescue Blastin Dusty was $74.99 but you can make off with it like a bandit for only $29.70, saving you 60% off the retail value. This item also qualifies for completely free Amazon super save shipping all by its lonesome self, no filler items needed.
If your kid loves vehicles, then the Planes series is already on your radar. Check out the fab little deal I found on this Disney Planes Fire and Rescue Blastin Dusty for your kid-sized search and rescue crew. The first thing I noticed about this toy is this plane has a big wingspan. This is not a little plane the size of your kid's hand. This is a big plane that boasts a full thirteen inch wing span. That makes this Dusty plane really feel like a hero from the get-go as he saves all of your Little People, dump trucks and your child's favourite stuffy.
This toy comes with three fire targets, and six water bomb balls to drop and put out the fires. The bottom of the plane has a mechanism that easily scoops up the water bomb balls so if you miss, you can easily try again.  This plane also comes with over twenty sounds and phrases from the movie to add to the fun. There is a smart sensor in the toy that causes the toy to respond when you fly it different directions, which sounds awesome. I know my kiddo, even not being a big Planes fan, will want to save the day over and over again with this cool toy.
Over at Toys R Us Canada, I found the lowest price on this Planes toy rolling in at $44.98. Sears Canada carries this toy with practically no discount at all for $71.24. I did find this toy selling for significantly lower at Amazon.com at $16.46. The problem is to ship it over the border the shipping costs is an additional $18.21, making your total $34.67. Since the order is over $20, it is also possible you will be hit with duty fees at the door which drives the price of this toy up even further for all of us Canadians. Boo, hiss. Buy this at Amazon.ca instead.
Over on Amazon.ca the three reviews seem to be a bit mixed. If you check out some of the other retailers that I compared the price of this toy to, you will quickly see most reviewers are rating this toy a strong four or five starts out of five. Here is a review from Toys R Us Canada.
My son was very excited to get this toy. It is much larger than the other "Dusty" planes that he has. He really enjoys shooting the balls at the flames and talking feature. He spends most of his time playing with the plane by itself and shooting at the flames. I can see him playing with this toy for a while.
Bargainmoosers, I would scoop up this toy now. We have seen Amazon Canada prices fluctuate a lot recently so if you want the deal, snag it up. I may just have to throw it in my cart for that next birthday party we are attending in a few short weeks.
(Expiry: Unknown)