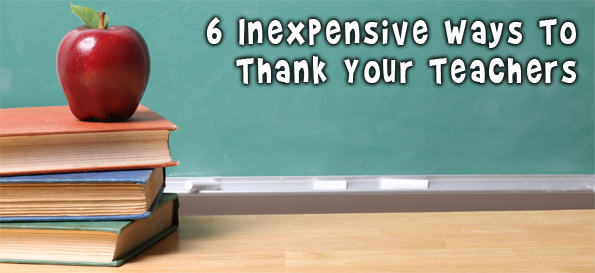 Whether you love it or hate it, the school year is ending. I'm excited my kids will be home every day, but I'm also terrified. Either way, I want to thank their teachers in so many ways for not just teaching them, but for molding them, protecting them, being there for them and just generally having to deal with them! Here are six great ways you can thank your child's teacher (or your own) for all of the tireless effort they have put in this year.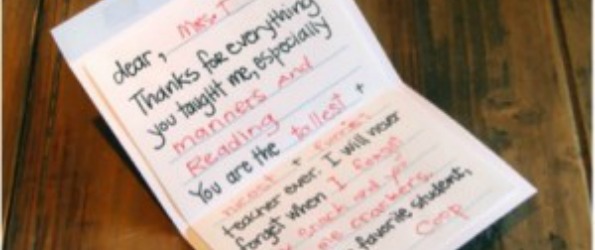 After doing so much research on what teachers really want as thank you gifts, I came up with the most wanted gift, which might not seem like a gift, but it is something teachers don't get very often. Teachers would love to hear a thank you, from you and the kids, in letter form describing why you are thankful for them. Take it one step further with a teacher you are really thankful for and give a copy of the letter to the principal, so they can also be thankful for the awesome staff they have. The letter above from Lil' Blue Boo is a free printable letter for your child to fill out. I don't think you need that for your own letter. Or maybe you do?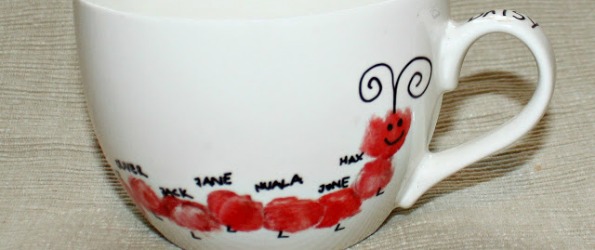 I think mugs are wonderful gifts for anyone who enjoys a hot beverage (which is basically everyone). Having a personalized mug is even better, because it reminds you of the giver every time you use it. This fingerprint caterpillar (above) from Lolovie is the perfect mug for a teacher to remember his/her students. This is especially good if you are a volunteer in the class and you can get the fingerprints of all the students.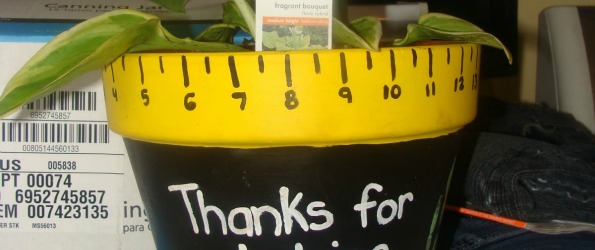 A plant is definitely a green sort of gift, and all you need is a pot and some paint to personalize it for your teacher. Naturally Thrifty Moms painted on a faux ruler, a thank you for helping them grow, and the child's name and handprint on the back. If the teacher doesn't remember your student for the time they smashed the fish tank, this plant will help keep those memories alive.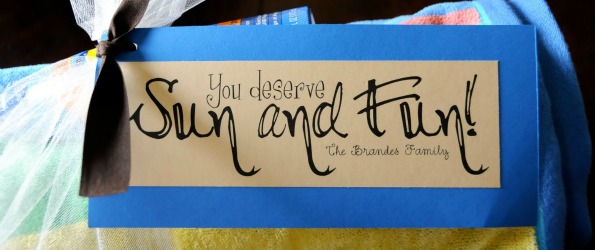 This idea from The Brandes Family requires quite a bit less work than the rest, but it is a pretty kick-butt idea (above) for showing the teacher you recognize that they need a break! Simply get a beach towel, sunscreen (I'd go all natural) and a favourite magazine, with a note attached and you've got yourself a useful gift.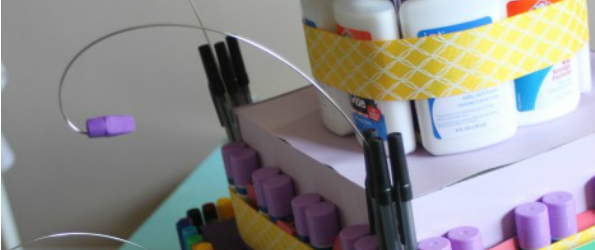 School supplies might not seem like a teacher gift, but in a roundabout way, they are. Many teachers use their own money to buy supplies for the class, so by making this nifty school supply cake, you help them save their own dollars. Get the instructions at Delicate Construction (above).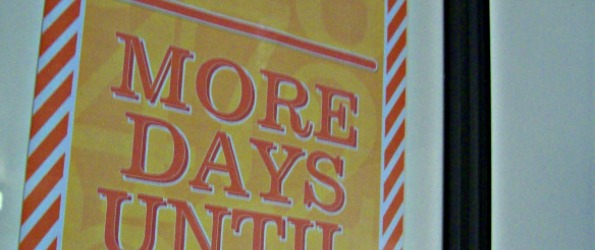 This idea from The Domestic Fringe is my favourite so far. It is so easy, too. Get the printable, print it and frame it! The teacher can hang it in their classroom and count down the days until the end of school. Next year they can count down to anything. This is such a useful gift and a great idea for something they can use often and for years. It will always remind them of you and what an awesome parent you are, too!
Bargainmoosers, do you have any amazing gift ideas for teachers? Link us to them below!