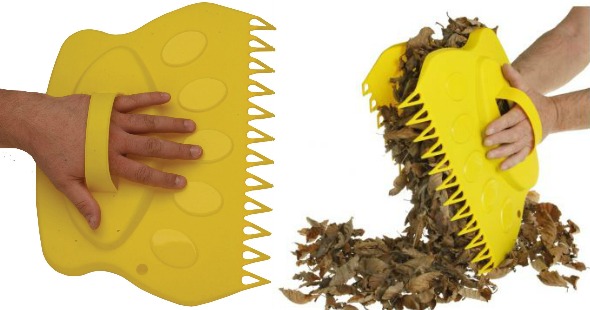 Have you cleaned up all the leaves in your yard yet, or are you procrastinating like I am? If you need a little helping hand, then check out this Barnel Sweeper Helping Hands which was originally $15.99 and now on sale for just $6.75. Spend $25 to get free shipping.
These Barnel Sweeper Helping Hands are sold in pairs, and for just $6.75 a pair you really can't complain. That is a whipping 58% off the regular price - and you will never need to drag the hubby outside to help you out ever again. Now you can just rake the leaves and twigs into a pile and use these Barnel Sweeper Helping Hands to help you place the yard mess into the yard waste bags. I even think that these glove type tools may help make this chore a little fun and interesting for the kids, so maybe they will be more willing to help you out with some yard work even though it is a wee bit chilly outside. These helping hands sell for $12.65 over at Ebay.ca, so you are getting a much better price from Amazon Canada.
Because we all know how hard it is to use the rake to load the pile of leaves into yard bags, right? Could you imagine how convenient it would be to be able to just put these Sweeper Helping Hands on and pick up all the leaves. They are one size fits all, and pretty light weight as well. You also won't have to worry about accidentally touching dog poo or something gross that the kids leave outside.
Reviews say that this item is pretty handy, but that they wish it was smaller. Personally I think the bigger the better with items like this. Who wants to take 20 minutes just to pick leaves up? These helping hands will help you get the job done in a jiffy I am sure. I can't wait to try them out myself. This item is shipped and sold by Amazon Canada, which means you will get free shipping on any and all orders over $25. If you have an Amazon Prime membership, you will get free shipping.
Moosers, do you need something like this to help you with your autumn clean up?
(Expiry: Unknown)