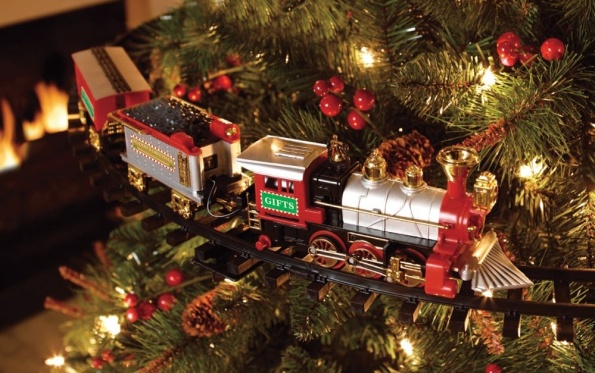 Every classic movie or book that involves Christmas will also involve the classic Christmas tree train as well. Now you can have a train wrap around your very own Christmas tree for just a fraction of the regular cost. This Christmas Tree Train was originally $29.95 but now you can call it yours for just $13.18.
The Christmas Tree train is a fabulous tradition. If you don't already have a Christmas Tree Train, then snag this one while the getting is hot. This is a great tradition to start, and you can make it a little different each year to keep things interesting as well. The Christmas Tree Train and Track will fit to adjust most (if not all) artificial and natural trees under 7.5 feet tall.
The Christmas Tree Train comes with 9 feet of track, and each track piece can mount to the trunk of your Christmas tree or you can have the train run along the floor instead. You can select "continuous run" or even the "timed battery saver" mode. For you ladies that are not very good at assembling fun items for the family, then you willl be happy to know that this piece is quick and easy assemble. You will need 4 AA batteries, which are unfortunately not included.
I really wanted one of these Christmas Tree Trains, but I don't think my son is old enough to realize the differences in toys and decorations. Especially because last year I gifted him with so many Thomas & Friends. My cats would also have a hoot chasing it around, but it is definitely an adorable idea if you have the space and capacity to set it up and keep the pets and toddlers at bay. So far this year I have managed to keep just one decoration on my tree - the star. And even the star is bent right over. Silly cats!!
This item is only available for free in-store pickup. That is fine though! Then at least you can use this Christmas Tree Train in time to set up the gifts under your tree this Christmas morning.
Moosers, do you have a Christmas Tree Train?
(Expiry: Unknown)