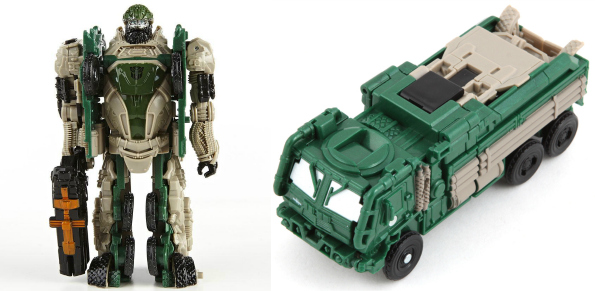 Transformers have made a comeback in a big way since the recent movie series started. If your child is an avid fan, then pick them up a killer new Transformer for Christmas. This Transformer Power Battler Autobot Hound is on sale from $14.95 down to $7.50 with free shipping no minimum right now.
This Autobot Hound Power Attacker figure actually 'transforms' from robot mode to vehicle mode. When in robot mode, his arm snaps out in a quick draw for knocking off Decepticons. When the Autobot Hound needs speed more than fire power, he converts to a truck in eight easy steps. He truly is a transformer that transforms in the hands of your child. What a great toy! With the conversion, this Transformer is essentially two toys in one. This is why I like the converting Transformer toys.
I did price compare this awesome little Autobot Hound and I found him both shipped from and sold by Amazon Canada for $14.84. I couldn't find this bot many other places in Canada, but Amazon tends to match the lowest prices out there so I knew this was a good deal.
This autobot is awesome! While the name is 'hound' - it isn't actually a dog autobot. Rather, it is some awesome bearded guy in green and taupe that looks like he could kick some serious butt. He looks almost 'army' in his colours and he is packing some serious gun power when in autobot mode. I like how he converts into a seemingly harmless truck that you might imagine works for the city doing maintenance. Yet underneath, there is an autobot just waiting for the call to action.
This autobot would make a nice Christmas gift. Depending upon the packaging, it might even make a super-awesome gift to top off your child's Christmas stocking. I know Halloween isn't quite here yet, but it is never too early to start Christmas shopping.
(Expiry: Unknown)