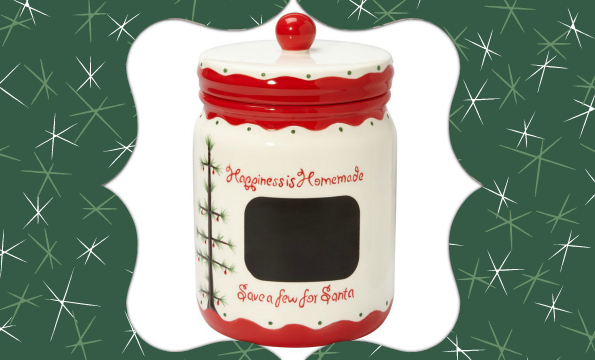 Homemade cookies are one of my happiest memories from childhood. My grandma always used to bake up a storm around the holidays. If you are looking for a lovely holiday cookie jar for your homemade masterpieces, then consider the Santa's Choice Cookie Jar. Originally $29.95, the cookie jar is on sale for just $15 and will come with free shipping as well.
This is a special cookie jar for many reasons. First, it is an adorable little red and white cookie jar that stands 8" high. The side is decorated with a Christmas tree that looks like a cross between Charlie Brown's tree and a regular tree. On the jar is written "Happiness is Homemade" and "Save a few for Santa". This cookie jar is super special because it has a chalkboard on it.
The chalkboard allows your child to write their own little message to Santa or to tell Santa about the cookies inside. They might want to let him know that there are chocolate chip cookies this year instead of peanut butter or that their family went vegan so he gets almond milk this year. You might want to apologize for that.
While this isn't a large cookie jar at just 6" by 8" - it will store enough cookies for Santa and your kids to eat fresh. When I was a kid, we have a wonderful cookie jar that I loved to raid - what kid doesn't. So my parents didn't know, I would try to rearrange the remaining cookies to make the cookie jar look fuller than it was. Yeah, yeah, I got caught a few times.
This is a wonderful whimsical holiday decoration that will be sure to serve year after year. After all, Santa wants his cookies! How else is he supposed to maintain that famous belly?
Best of all, this cookie jar qualifies for free shipping with no minimum today and tomorrow - if it stays in stock that long. This cookie jar would also make a great gift for anyone really, including those hard to buy for people on your list. It would also be the star of a holiday gift exchange.
(Expiry: Unknown)