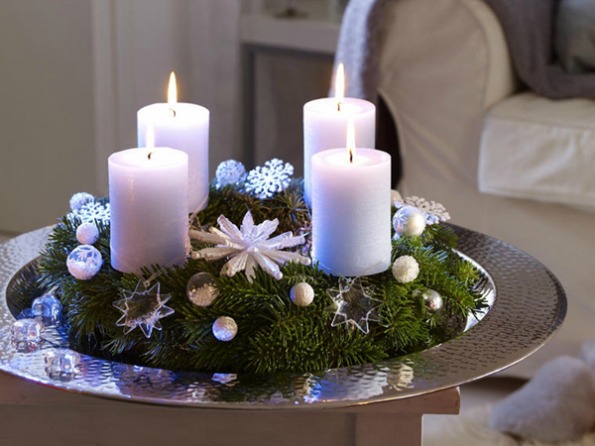 Winter is coming and the night is overpowering the day. if you are starting to get used to getting up in the dark and going to bed in the dark, you need to pick yourself up a few candles to brighten your way. Chapters Canada is offering 50% off a couple of pillar candles for your living room, bedroom, or bathroom. This 5" Pillar Candle – Ivory is on sale from $12 down to just $6 with free shipping. This 7" Pillar Candle – Ivory was $16 and is now just $8 with free shipping.
Christmas is coming and so many people light candles for the holiday. I like that these are two different size candles as they look really good up against each other. They can be used to complete some Christmas decor. Wrap some greenery around the base of each candle and maybe glue on a few ribbons. Presto: Christmas Candles! Homedit has 30 Christmas Candle decoration ideas (including the picture above) that can give you some ideas. Many of the ideas use pillar candles like these.
Candles also make excellent gifts. Every single woman I know likes burning candles. Whether it is while relaxing in the evening after the kids have gone off to bed, or on the edge of the bathtub with bubbles and a glass of wine (when the kids are away at Grandmas), candles are an easy and dependable gift for women. My Mom was always happy to receive candles and I LOVE receiving candles as a gift.  Even as a pre-teen, I was delighted to get a candle for my very own room (as long as I was careful with it).
I like these candles from Chapters as they are good quality candles that are still affordable with the sale price. They also come with free shipping so you can buy as few or as many as you like. I am lighting candles every few days now that fall has struck, and will certainly need to stock up for winter. At these prices, I think I will pick up a couple myself.
(Expiry: unknown)