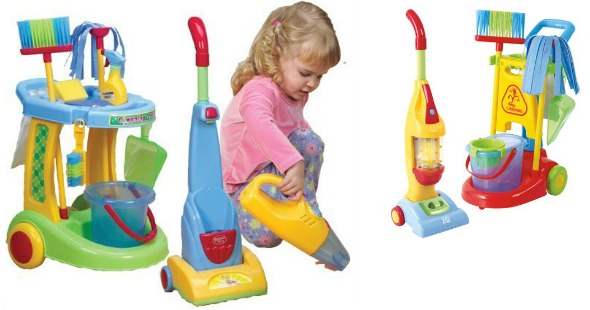 How often does your little one want to help while you're cleaning the house? My son is almost three and he loves pretending that he is sweeping or vacuuming. If that is the case with your little one as well, then you may want to snag this My Cleaning Trolley with Vacuum Cleaner set which is 50% off since Walmart.ca has added so many toys to their clearance section. That means you will pay just $20 instead of the original cost which was $40. There are a few different shipping options to explore when shopping at Walmart.ca but your best bet is to spend $50 to get free shipping.
The My Cleaning Trolley with Vacuum Cleaner is a cute little cleaning set for any little helper. This set had an original price tag of $40, but now it can be yours for $20. The kids will love mimicking you while you clean. It is also in unisex colours, so you can add this play set to your Walmart.ca shopping cart whether you have a little boy or a little girl.
So what's in the box for just twenty bucks? Here is what is included in the My Cleaning Trolley with Vacuum Cleaner from Walmart Canada:
vacuum that makes noise
cleaning trolley
mop
mop bucket
broom
wet floor sign
dust pan
and more!
So as you can see, this set has everything your little one will need to help you keep the house tidy this Holiday season. While they may not actually be helping, it is the thought that counts. It is also good to teach them to help you out around the house while they are young. Maybe if you keep it positive they will grow up and continue to help... maybe. :)
Who knows when this offer will expire, but the other Walmart.ca clearance deals that came up today have all expired in the blink of an eye. These toys are hot prices and at an excellent time too - Christmas is just around the corner and it is always fantastic to save a few bucks while snagging the toys your kids will love. When it comes to having this item shipped to you, there are three different options. If you spend $50 you can get free shipping right to your door. It is quite easy to spend $50 at Walmart.ca right now with all these hot clearance deals on toys. If you can't find anything else, you can have the item sent to your Canada Post Office for free or to your local Walmart Canada Grab & Go Locker for free as well.
(Expiry: Unknown)