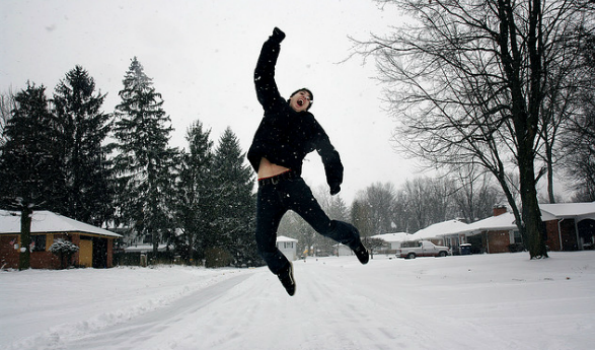 Who wants free Optimum points? Shoppers Drug Mart has a coupon code to add 4000 free Optimum points to your account. Grab them now while the coupon code is live and the points are free by updating your account information and adding the code.
Click here to get 4000 free Optimum points@ Shoppers Drug Mart now
CouponCode: 1923
Discount: 4000 free points
Expires: 23rd March 2015
Note: if you've used a similar code to claim 4000 free points in the last six months, you won't be able to use the above.
If you do not already have an Optimum points card, you should click on that link and sign up. I have moved since I last used my Shopper's Card and was having trouble signing up, so I signed up for a new card. The system allowed me to input the code and receive my free points as I was signing up.
If your account is not new, you will need to update some part of your profile such as change your e-mail or address to receive the free points. You should receive a confirmation e-mail right away if the points will be added to your account. Points will all be officially added and spendable on or before April 6, 2015. The program only allows you to claim a freebie point offer like this one for updating your profile once every 6 months.
Here is what my confirmation e-mail looked like. Mine says Pharmaprix because I am located in Quebec, but Pharmaprix and Shopper's Drug Mart are the same company.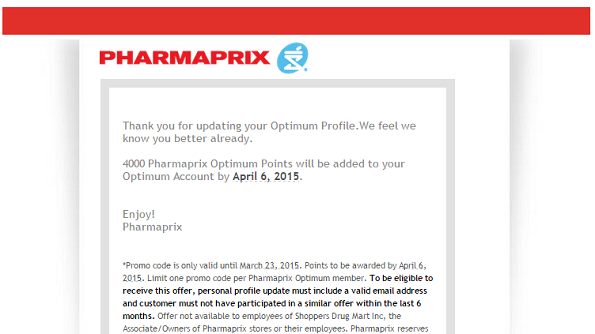 According to the reward chart, 4000 points is half way to the first reward. When you accumulate 8000 points, you could claim $10 to spend.
The more points you accumulate, the more you can cash out. Shopper's Drug Mart will also send you regular e-mail promotions telling you what items you can purchase to rack up bonus points. You can check out all the current promotions to rack up bonus points with purchases on the Shopper's Drug Mart website.
With the Optimum program, you can transfer points to another family member. You can also collect points and donate to charity. Charities can then use the points to purchase supplies for operations. The list of charities you can donate points to is long.
However you choose to use your points, someone will be benefiting from free store credit! Check out the guest post How to Optimise your Redemption of Shoppers Drug Mart Optimum Pointsand stretch your points even further.
Bargainmoosers, what do you purchase with your Optimum points?
(Expiry: 23rd March 2014, image Credit: Phil Dragash)