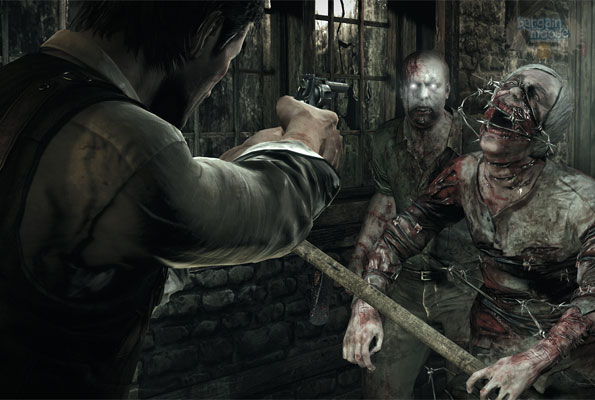 Looking for a terrifying game to immerse yourself into and pass the time? Then here's a fantastic deal on The Evil Within: right now you can get it for PS4, PS3, Xbox One, Xbox 360 or PC on sale for just $19.99. It was originally priced at $49.99, which means it's $30 off.
Needless to say, this game isn't for everyone but if you like Resident Evil, then you will more than likely enjoy playing The Evil Within as well. Horror and zombie video games aren't my thing but I did have to endure watching my hubby play and let me tell ya... some scenes and graphics are indeed scary. Here's a review that greatly summarizes The Evil Within:
This is a brutal, terrifying, and utterly surreal game. It's not for the squeamish. The game design and mechanics are stellar, and in parts it really shines, with vibrant colours and setting. There are some technical glitches here and there, but nothing that will diminish the experience. If you like the Resident Evil series, you'll love this game.
The general rating for this game is 4/5, so you can definitely expect it to hook you and the best part is that you can get it on nearly any console (Nintendo is of course excluded):
IGN has even given The Evil Within an 8.7/10 rating, which is definitely as great as it gets. GameSpot wasn't as generous with its rating, giving it a 7/10, but considering it's at such a high discount right now, it's definitely well worth a try! What's funny is that even the previously played condition of this game for PlayStation 4 is actually priced at $39.99, which is $20 more than the new one!
Since shipping is only free on orders over $25 at Best Buy, it would be best to add a filler item from the clearance outlet to avoid the shipping charge. I actually like to also check out Best Buy's VIVA section in cases like these for some cheap beauty or household products that I would be needing anyways.
(Expiry: 30th July 2015)