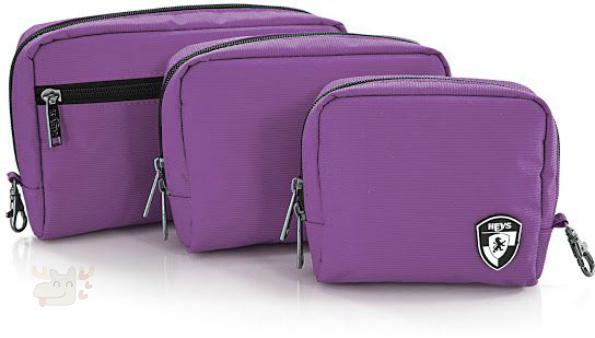 I found a sweet little deal on Heys Mini Cubes over at Sears Canada. The three-piece set of Heys Mini Cubes is on sale from $29.97 down to $17.97. Sears Canada currently offers free shipping to over 1300 Sears Stores and Sears Outlet locations. Now, you will want to purchase TWO sets so you can use coupon code941612464 for $10 off. After coupon code, each set works out to $12.97. You could also just buy one pack and top your cart up with something else to the $25 threshold for the coupon.
There are a plethora of colours to choose from including: black, grey, olive, red, purple, and a few more. Each set of cubes expands to form a space efficient cube with mesh inserts inside. Each pack of cubes comes with three different sizes cubes:
Large: 14cm x 23.5cm x 6.4cm
Medium: 12.7cm x 18.4cm x 5.7cm
Small: 11.4cm x 14cm x 5cm
When price comparing, I found these cubes for $24.97 plus shipping at Heys Canada. They are sold out at The Shopping Channel, but they were $22.99 + $6.99 shipping when they were there last. Heys products are pretty popular and I could see these bags being a great asset. Here is my cart with two sets of these bags: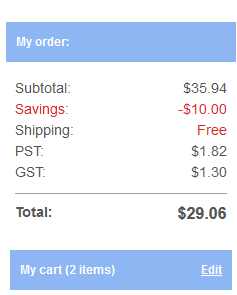 I am going on a small trip back home to visit my family and friends this November. Thus, I have been thinking about travel and travel accessories a lot. As I am only taking carry-on luggage, I want to organize everything the best way possible to maximize carrying space. These mini cubes are perfect for that. Each cube will help me organize my carry-on luggage (also Heys) and pack everything in just where I need it. Even better, I will be able to find stuff without destroying my entire suitcase.
Now, bags like this are not only for big travels. They can be awesome for daily trips in the car when you need to bring a bunch of toys for the kids, snacks, activities, and other items. The small cube could even work well in a purse or diaper bag.
Essentially: they are three multi-purpose storage cubes with mesh inserts and other features that will really multi-task in your life. Heys brand bags for $13 a pack (times 2) and free shipping to a location near you is a pretty nice deal.
(Expiry: unknown)