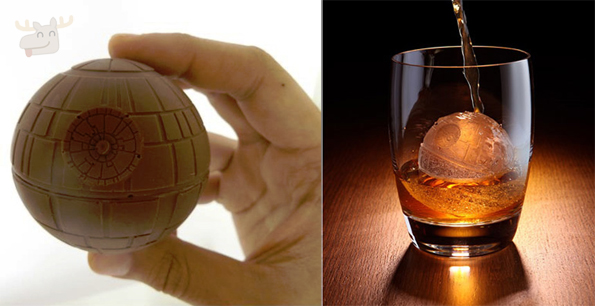 I love finding amazing and quirky items on Amazon.ca, things you can either buy for yourself as a treat or things that would make an excellent gift for friends or family. I've found such an item today here on Amazon, they are Death Star molds!! You can buy this set of two for only $11.99 just now.
These molds are sold by a seller called "Ujoy" but they are fulfilled by Amazon. This means that they are eligible for Amazon Prime, or free shipping on a $25 spend for those of you without Prime. Please note that there are some other sellers but they're all shipping from Hong Kong and China. For a couple extra bucks, you're getting a Canadian seller and faster shipping here. Feel free to go for the cheaper options if you wish though - just click on the "31 new from..." under the price on Amazon.
Now, the listings don't call these Star Wars "Death Star" molds as there is probably some sort of trademark issue with good old Lucasarts there. They're called, "Silicone Mold Ice Cube Tray Ball Whiskey Baking Chocolate Soap for Star Wars Lovers." K? K.
You can use these molds for many things – not just ice. As I've shown in the image above, you could even use these for chocolate balls. Chocolate salty balls, perhaps!?
As for pricing elsewhere, these exact items aren't sold at many places online in Canada. I did see some stores selling individual molds in the region of $15+. So two for only $12 on Amazon is superb!
Wouldn't these be great for a Christmas gift? I'm so tempted to buy them, but I actually bought a very similar item which is currently sitting in my pressie drawer. I bought some plain circular molds for my partner. He loves a little tipple on the weekend, and gin is his poison. Apparently, the larger surface area of this type of ice cube will mean that it keeps the drink cool, but will have less ice melt in the process. It's ideal for people who drink spirits.
(Expires: unknown)