Well.ca: 20% Off Method Home Home Cleaning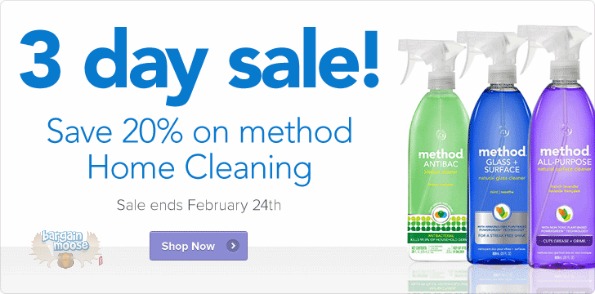 This weekend only Well.ca is offering 20% off Method Home Cleaning products.
I have been considering switching to Method for a while - but am waiting to run out of my current home cleaning products. I never realized just how long these products last. Here are some of the products I have been eying up:
I like the idea of the scents matching so I would try and get mostly French Lavender. However, a good wood cleaner is a must especially with huge wooden bookshelves like we have, and my husband loves the smell of Almond. I am all for the daily shower spray as anything that reduces the elbow grease needed to clean the shower is a bonus in my mind.
Free shipping on orders of $25 or more. If you are a new customer, make sure to use our Exclusive Well.ca coupon for $10 off a $40 spend.
(Expiry: 24th February 2013)