The Shopping Channel: Holiday Surprise Box $34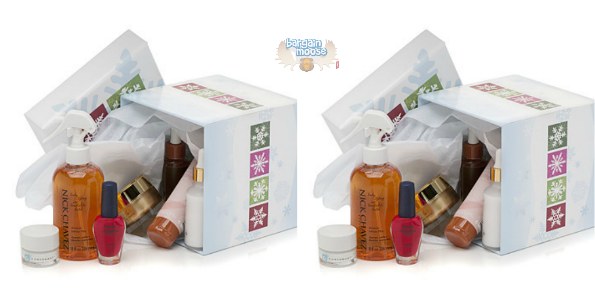 *I am bumping this post as these are back IN STOCK and are so very popular - I know a Mooser or 2 missed out the first time around ~ Avigayil ~*
I LOVE getting these boxes, its a little splurge I always reward myself with! The Shopping Channel has released another sweet Holiday Surprise Box for $25 + $9 shipping so $34!
This year we have these featured products:
Nick Chavez Infinity Mist Infinity Mist (236ml) Value $22.00
Consonant Organic Firming Eye Cream (15ml) Value $36.00
Nail Tek Hydration Therapy Nail Colour in Assorted Colors (15ml) Value $15.00
Also includes products from:
Perricone, Super by Perricone, Pur Minerals, Stila, Elysee, Elizabeth Grant, Prai, Perlier, Tan Towel, Ojon, Urban Decay, StriVectin, Serious Skin
Perricone products are AWESOME. So are Pur Minerals, Prai, Perlier and Ojon... I really enjoy them all! I love getting the few full sized products these boxes have and the samples... I look forward to falling in love with a new product!
Of course my question is always whether I should get 1 or 2... they make such great gifts (and you can get multipack shipping).
Thanks so much to Mooser Alanna88 for posting this on the community forums!