Stock Up On 24H Moisturizing Butter During the 5 for $20 Sale @ Fruits and Passion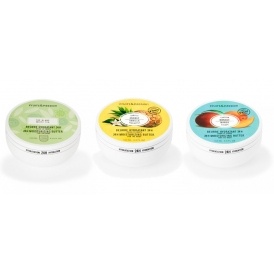 I already know what you're thinking, who needs five tubs of anything? But here's the thing, these 24H Moisturizing Butters are regularly $9.95 each, so to be able to pick up five of them for $20 is a great opportunity for stocking up.
There are a few scents available in stock so you can get a variety and keep them on hand for upcoming occasions like Mother's Day. The pretty packaging on these also makes them ideal for hostess gifts and teacher's gifts. They are a decadent treat that many people are not likely to buy for themselves. Don't forget to keep a couple for yourself!
Added bonus—we've got an exclusive free shipping code if you shop the 5 for $20 deal. Use code MOOSE at checkout.
(Expires March 18, 2016)