Shoppers Drug Mart Canada: Super Bonus Redemption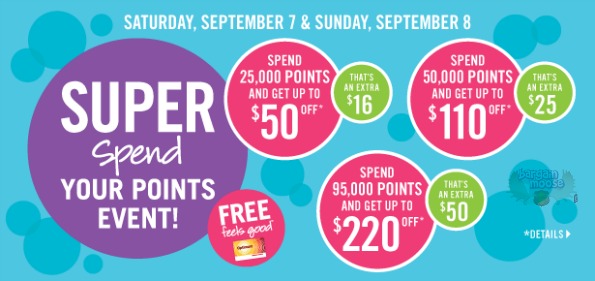 Not only is this weekend a redemption weekend at Shoppers Drug Mart, it is also a Super Bonus Redemption weekend.  That means that you will be able to save up to an additional $50 on your purchases when you redeem your points.
Here are the regular redemption levels this weekend:
Redeem 95,000 points and get $220 off (Extra $50)
Redeem 50,000 points and get $110 off (Extra $25)
Redeem 25,000 points and get $50 off (Extra $16)
All other levels will be the same as any other day.
There are the normal exclusions to this deal:
Offer excludes prescription purchases, products with codeine, non-pointable items, tobacco products (where applicable), stamps, passport photos, lottery tickets, event tickets, transit tickets and passes, gift cards, prepaid phone cards, prepaid card products and Shoppers Home Health Care locations.
I like to take advantage of these redemption weekends and pair the deals from the flyer to the coupons that I have.  You can get more bang for your buck this way. I also like to stock up on items that I need such as diapers because they can be quite pricey.
(Expiry: September 7th & 8th only)