Shoppers Drug Mart Canada: Bonus Redemption Weekend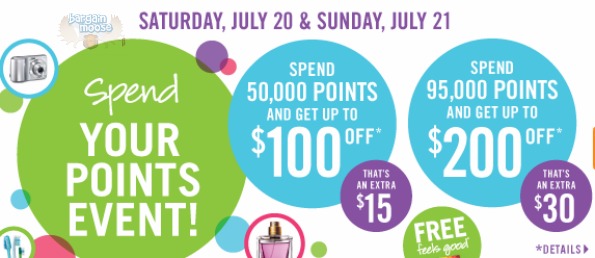 This weekend is Shoppers Drug Mart Spend Your Points Event, where you can get more from your points because the redemption levels are increased. This is the perfect opportunity to spend those points you have been collecting and get a little extra.
Here are regular redemption levels compared to this weekend:
Redeem 50,000 points and get up to $85 off / This weekend redeem 50,000 for $100 (get an extra $15)
Redeem 95,000 points and get up to $170 off / This weekend redeem 95,000 for $200 (get an extra $30)
All other levels will be the same. They have been having a lot of bonus point weekends and special points days, so hopefully you have been taking advantage of those as well and grabbing some extra points to spend.
Remember that you will be able to use printable coupons to save money on your purchases as well with this deal.  Basically, the more coupons you use, the more you will be able to get.  If you do not have at least 50,000 optimum points, I suggest you wait until you do to redeem your points.  They almost never give you the deal of extra points until you have reached this level, so it is worth the wait.
This event will be held on July 20th and 21st all day long, and you will be able to do up to two redemptions each day.
(Expiry: 21st July 2013)