Roll Up, Roll Up, Rolaids!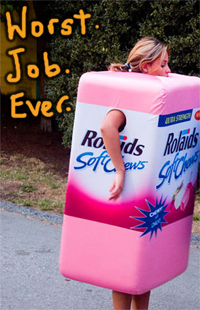 Who doesn't love a bit of heartburn? Well, I wouldn't know, I don't think I've ever had it. But if you are a sufferer, check out these coupons for chewy Rolaids!
Now, I've mentioned this a few times in the past, but it doesn't hurt anyone to repeat it. London Drugs Canada is great when you use printable coupons. You can use multiple printable coupons on one product, providing the coupons are from different sources, and have different bar codes. The 2 coupons above have different bar codes, so you should be able to combine them to get $3 discount off your Rolaids purchase!
I'm looking at the London Drugs website, and they only seem to list 42 packs on there, and the coupons seem to refer to 36 or 48s, so I'm a wee bit confused. They are showing at $6.49, so even if you were able to get $3 off those, it's still a good deal. As they say on some forums, "your mileage may vary" so I'm not sure how successful you may be! If you manage to do this, let me know! :) Would love to hear from you!
P.S. These coupons last until the 31st of December 2009! Ages and ages! I'll keep an eye on the store flyers and be sure to let you know if Rolaids are on special offer.
Thanks BLANKartist.