Marcelle Canada Promo Code: 30% Discount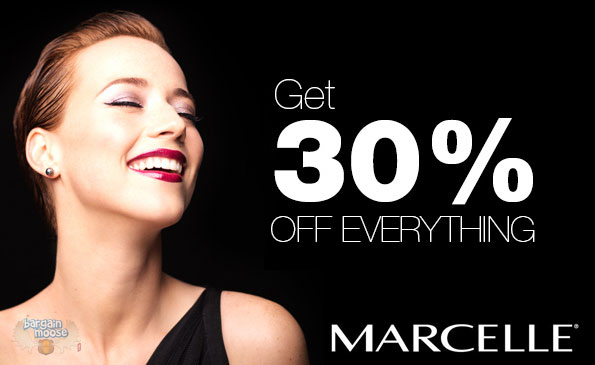 It's the week-end and the Thanksgiving one at that, so treat yourself to some new cosmetics and save 30% off your entire order at Marcelle.
Click here to shop @ Marcelle.com now
Coupon Code: FALL2014
Discount: 30% off
Expiry: 14th October 2014
Ever since ordering from Marcelle a couple of months ago, I have been using the 3-in-1 micellar solution priced at $19.95 on a daily basis and I have to say that I absolutely love it. It comes down to just $13.96 with the discount. Prior to using it, I had been using a Laroche-Posay micellar solution, which is more expensive. At the time of purchasing it, I had used a Marcelle coupon code to bring down the price even more and I am so happy that I decided to try a different cleanser because not only is it cheaper, but it works just as well.
Plus, I really like the bottle itself because instead of having to tilt it to pour the solution onto a cotton pad, all you need to do is place your pad on top and press down. It seems to me like this method is much more efficient as you get the same amount of cleansing solution each and single time. I can't even begin to tell you how many times I spilled my Laroche-Posay one or got it anywhere but onto the pad.
Along with the micella solution, I had also added the Xtensin Plus+ Prolash growth complex mascara to my shopping cart to give it a try and I do believe that its promise of "creating visibly longer and thicker lashes in just 2 weeks" appears to have worked. Ever since buying it, I have been using this mascara every day as part of my make-up routine and I have definitely fallen in love with it. It doesn't clump, goes on smoothly and does appear to extend my lashes. Plus, it's also very easy to remove at night as well. You can get it for $10.46 instead of $14.95.
I also use Marcelle's waterproof eyeliner every day and it's definitely one that I recommend one hundred percent. I typically put it on in the morning and then completely forget that I even have it on because I almost never need to re-apply it. Since it's $10.95, it comes down to just $7.66.
As usual, shipping is free on orders over $50.
Moosers, what are your favourite Marcelle products?