Lush Canada: Free Frosty The Snowman Gifts In Store (And Free Eggnog!)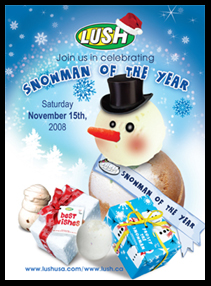 If you're partial to a bit of dressing up in fun costumes… here's a deal for you! On Saturday the 15th of November, Lush Canada are offering you a free Frosty the Snowman gift. There's a catch though – you must go in dressed up as a snowman!!
I think it would be pretty easy to throw together a snowman costume – just dress all in white, maybe slap on some white face paint if you have it, some rosy blushered cheeks… maybe even try to construct some sort of carrot nose, which you could then eat soon after!?
I don't know what is in the Frosty gift box, the email from Lush.ca doesn't specify. From the picture though, it could be white bath bombs, and a santa soap… possibly other things too. They're also offering free eggnog. I guess it's just a ploy to get you in and get started on your Christmas shopping.
If you manage to collect the freebie, it would be great to hear what you get!