L'Oréal Canada: Free $5 Discount Coupon For Mascara!
L'Oréal Paris have recently released a new mascara called "Double Extend Beauty Tubes!" I find it quite an odd name, not very easy to remember. However, the saving grace is that they are offering us all a $5 discount coupon. How to get the free coupon: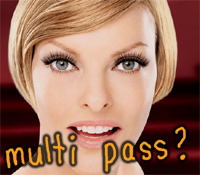 Click "skip intro"

Put "UHPT" in limited offers box @ top

???

Profit
You then enter your details and they will send you a free coupon for a $5 discount on their Double Extend Beauty Tubes Mascara. They will mail the discount coupon out to you, so be sure to put in your correct postal address.
Your Double Extend Beauty Tubes Mascara coupon will arrive by mail in 3-4 weeks. Look for LOreal Paris Double Extend Beauty Tubes Mascara at a store near you.
This L'Oreal mascara is quite new, I haven't yet used it. If you want to read some reviews, a few ladies on other blogs have tested this mascara out. You can read these reviews on Bargainista and on Miss604. Like Rebecca on Miss604, I'm also a Maybelline cosmetics girl, and I rarely switch away from their products. But looking at her piccies, the mascara looks excellent! The $5 coupon might just tempt me to go out and buy this product.