Jane & Joe Shave Pack 40% Off With Code @ Dorco USA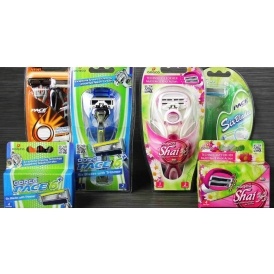 This is a sharp deal at $20.50 USD with free shipping, for the Dorco USA Jane & Joe razor blade pack, plus their fabulous D Crème Shaving Cream.
The Jane & Joe razor blade handles and blade cartridges set are perfect for you and your significant other as you eagerly anticipate the shorts and swimsuit season. Or, use all of them yourself! I can vouch that the men's blades are excellent! I tried my husband's before getting my own. The blades shave really close without pulling on the skin, because these ones in the kit have 6 blades! We have found that the blades last an especially long time, so this pack will last you many months. Some people swear by the blue jean trick to keep the blades at their best.
The Jane and Joe kit has an assortment of handles and blades for you to try.
Here is a list of included products in the pack:
Pace 6 Plus, (SXA5000) (1 handle and 2 cartridges)
Pace 6 Plus Cartridges, (SXA5040) (4 cartridges)
Shai Soft Touch™, (LSXA1000) (1 handle and 2 cartridges)
Shai Soft Touch™ Cartridges, (LSXA1040) (4 cartridges)
Pace 6 Disposables, (SXA200 3B) (3 razors)
Shai 6 Disposables, (SXA300 3B) (3 razors)
The Jane and Joe kit is on sale right now for $17.20 USD, down from $34.40 USD and with coupon code Z56V67887 entered into the promo code box during checkout, you will receive an additional 20% off of that. (As well as other items on the website if you want to add more!)
Because shipping to Canada is free only after spending over $20, I would add on this D Crème Shaving Cream for under $5 USD including the 20% off.
Essentially, you are receiving the shaving kit at a 40% total savings! Your total cost on the Jane and Joe Pack and the D Crème Shaving Cream is $20.50 USD, and includes free shipping. That works out to around $26 CAD for 18 blade cartridges, several handles, and the shaving cream! With the cost being under $1.50 CAD per blade, it just doesn't get better than that.

(Expiry Date: Unknown)