It's Flu Season – Save On The Sniffles With Tylenol!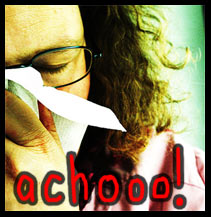 Hands up who has the cold? Me!? I'm boogertastic, snottery and down in the dumps. But I'm still delving for deals!! I've came across a few discount coupons for Tylenol, the well-known medication brand. Here's what we have:
These should work in any store in Canada.
And here's a great tip which should come in handy – certain stores stack coupons to give you multiple discounts on the one item!!! London Drugs is confirmed as being one such store. They will accept multiple coupons for the same product, as long as the bar codes are different on each coupon. So to save yourself even more, print out a few of the above, and use them on your Tylenol medication supplies!
In my opinion, the best remedy when you have the cold is to just say in bed. I've been in bed for 24 hours now! It's even better if you have someone to bring you snacks and tea and medication (not to mention a laptop and wireless interwebs access)!
Thanks for the pic Cybergabi.