EXCLUSIVE (50% Off): Healthsnap Coupon Code: 5x Essie Nail Polishes For $25 & Free Shipping!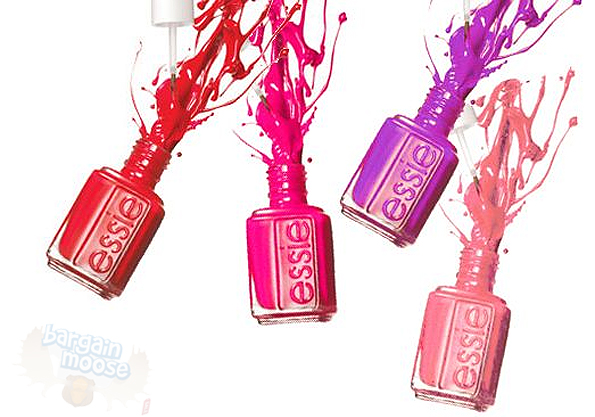 Two months ago, there was a popular Wagjag/Healthsnap deal here, which involved Essie nail polishes at a great price. Well, we've been communicating with Healthsnap and we've set up a Bargainmoose exclusive deal which is working out to be even cheaper per bottle. For only $25, you can choose five Essie nail polishes, from a wealth of colours. And, that price comes with free shipping to your home!
Click here to use the Healthsnap coupon code online now
Coupon Code: MOOSESS25
Discount: 50% off five Essie nail polishes
Expires: 8th May 2015
With our exclusive Healthsnap coupon code as shown above, you can add five colours to your shopping cart, apply the code and it will total $25, with the free shipping applied too. Taxes are on top of that, as usual. The Essie nail polishes are usually $9.99 each, and this deal is working out at only $5 each, so that's a 50% discount on the regular price there.
As for price comparing elsewhere, you can typically expect to pay around $8 per bottle here on Walmart, same here on Nailpolishcanada (plus shipping), they're $10 plus shipping here on Well.ca. You can get a few colours from as low as $5.59 here on London Drugs, but again, you've got extra shipping fees but not much choice in the colours in the lower price range. The price of $5 per bottle including shipping from Healthsnap is really sweet!
Essie is a very popular brand of nail polish. Here's a quick blurb from the Healthsnap site to tell you a little bit about them:
Essie's "no-chip" formula assures perfect long-lasting coverage. A charming whimsical and distinct name is given to each colour to show-off the personality captured by that colour.
Which colours would you choose? There are more than 30 to choose from, in all sorts of whimsical names, from Peach Daiquiri to Little Brown Dress.
I am wondering if these Essie nail polishes would be good for water marbling your nails. We Facebooked this video a few months ago and it was super popular:
I tried water marbling myself a few weeks ago, but I couldn't quite get the finish to be the same as those in the video above. I wasn't sure if it was maybe that the temperature of the water was tripping me up. But I also heard that different brands of nail polish will behave differently when put in the water, so the technique may not work successfully with all brands. Have you tried water marbling?