Druide Canada: Citronella Insect Repellent Spray or Lotion Six-Pack Was $45 | Now $34 (FS @ $60)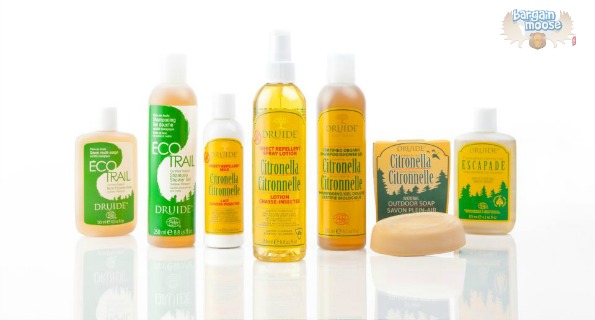 Did you know that Health Canada banned companies from using the term "outdoor spray" that contained citronella just recently? This could be why, if you were looking like I was, you couldn't find any natural bug sprays. Druide fought back, citing that citronella oil has been used safely in their products for over 20 years and that it is used in countries like Asia and Africa for many years. Basically, what would you rather use - DEET or Citronella oil? I know the answer for my family. At the beginning of this year Druide won approval to sell their products and label them as insect repellants, and I for one, am very happy about this. This is why I contacted the company to get an exclusive coupon code for our readers who will be doing outdoor activities this spring, summer and fall and want natural protection from the bugs. I'm also going to stock up!
Click here to shop @ Druide.ca now
Coupon Code: BARGAINMOOSE
Discount: 10% off
Expiry: 30th April 2015
While this coupon is only for 10% off, this is still a good deal as Druide rarely offers coupon codes. Looking back at what they've offered, I see mostly exclusives that we've asked Druide to provide us. Also, the coupon codes we did have weren't for a high discount either.
The great thing is that the six-pack of citronella body lotion or spray is already on sale, and once you add the coupon code, you'll get a slick $11 off the product. Regularly $44.82, on sale for $38.10, after the coupon is added, your total comes down to $34.29. You might want to know what you need six bottles for, but you could also find a friend and share, or you could stock up in your home, cottage, boat, trailer, vehicle, etc.
Shipping is free on a $60 spend, or is a flat rate of $4.99. I personally would add to my cart and get more of their Eco-trail products like this ECOtrail David Suzuki Foundation outdoor kit. Hey, if David Suzuki likes it, I do too. Actually, a $5 donation will go to the David Suzuki Foundation when you buy this kit. It includes shampoo, soap bar, deodorant and an ecological gift box. The products are all eco-friendly and are just pure essential oils that are 100% biodegradable. These are perfect for washing in the lake! Regularly $35, get it for only $31.50.
Bargainmoosers what do you think about the Deet vs. citronella oil debate?