Delectable Dry Shampoo 25% Off + Free Samples & Shipping @ The Beauty Boutique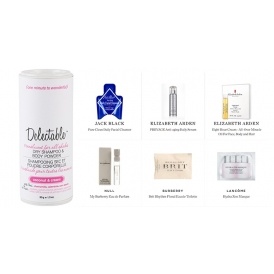 We've all had those days when you think you're going to hang close to home, no plans to get out and go anywhere and so you haven't showered yet. Suddenly you get a text from your best friend and she needs you to go watch her kids.
As any good friend would do, you head out but not before getting yourself quickly refreshed! Teeth brushed, out of your sweatpants, and how about a once over with this talc free Delectable Coconut & Cream Multi-Tasking Dry Shampoo & Body Powder? It's 25% off right now and just $12 at Shopper Beauty Boutique which, by the way, is offering free expedited shipping on all orders, no minimum, until April 29th. The scent of this coconut & cream powder is amazing, you will love this product!
That's not all, though! When I added this product to my shopping cart I was invited to select three different free samples of product! Who doesn't love free samples of beauty products? The samples are available while supplies last. If the sample you choose is no longer in stock they will choose another one for you.
(Expiry Date: Unknown)