Cosmetics Organizers from $30 & Free Shipping @ Amazon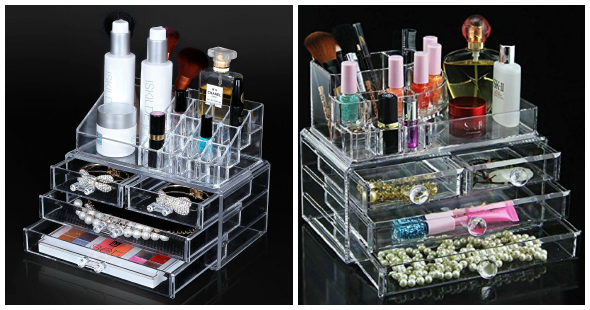 My bathroom counter is a mess. Am I the only one who has a hard time keeping it clean? I went in search of some sort of countertop organization for makeup and other odds and ends and found the little units to be very expensive in some places! I headed over to Amazon, though, and found some great, relatively inexpensive options. A lot of them are just over Amazon's $25 free shipping threshold so they'll ship for free; a feature I was hard-pressed to find at the niche storage sites.
I was searching for a more comprehensive solution rather than one cheap tray with some space for lipsticks. I found this Songmics Acrylic Makeup Organizer for $26.99. With plenty of storage spaces on the top tier for lipsticks and nail polishes, it also has 4 drawers for powders, palettes and even jewelry. It even includes removable black mesh liner (that can be easily rinsed off when cleaning out the drawers) to keep jewelry protected and in place. If you're someone who changes her accessories daily, this is a perfect option.
I also came across this Ohuhu Cosmetics Organizer, with a slightly different configuration, for $39.99. This is my favourite; and a lot of other peoples' favourite, as well, because it has 105 reviews with a 4.5 star average. It's got the top section for lipsticks, mascara and brushes and three drawers for eye shadows and powders. It seems a pretty reasonable size at 9.4" across and 5.9" deep.
As you can see from the above link, this same manufacturer has a few variations of drawers and top pieces ranging from $29.99 to $42.99. There are two 2-drawer styles at the lower end, and one larger 4-drawer style - with pretty drawer pull details - at the high end.
The only complaint I saw mentioned in any of the reviews, across the board, was that they wished/thought the drawers were bigger. Measurements are provided and it's always important to make sure that what you want to store will actually fit!
Luckily enough, each of the units I like will ship from Amazon for free but be sure the one that works for you is over $25 (or you top up your cart) to save any additional costs. We don't want that!
What's the state of your counter or makeup bag, Moosers?
(Expires: Unknown)