Canadian Freebie: Garnier Clean Plus Facial Cleanser Sample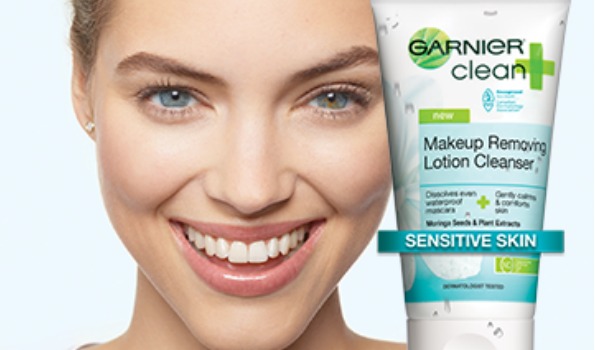 Click over to Garnier today to claim a free sample of the Garnier Clean Plus facial cleanser. I would click over right away. There are a limited number of these samples available and freebies almost always go quickly.
I love a good freebie! Free samples are a great way to try new products that you may not have otherwise tried without any commitment. I hate when I take a chance on a product, and am left trying to figure out what to do with the rest of the bottle if I do not like it. I have found several great products that I now use through freebies. I  also stash some of my freebies away to have a few extra mini bottles for traveling.
Today you can request a sample of the Garnier Clean Plus facial cleanser. This is a 5 ml sample, which means you should be able to get at least two to three washes out of this bottle. According to the label, this new product is a makeup remover and lotion cleanser for sensitive skin. I also like the claim on the outside that this cleanser will dissolve waterproof mascara. I always keep an eye makeup remover handy to catch any leftover residue, but I prefer to use fewer products on my face when I can. This facial cleanser looks like it has some promise for my skin.
There are a limited the number of samples, only 50,000 total according to the website. They also mention that shipping should take roughly four to six weeks in most major urban areas. Those of you farther out in more remote areas may experience a wait that is a little longer for your freebie. I signed up with my information and right away received a confirmation page. If everything went well, you should receive a confirmation page that looks like this: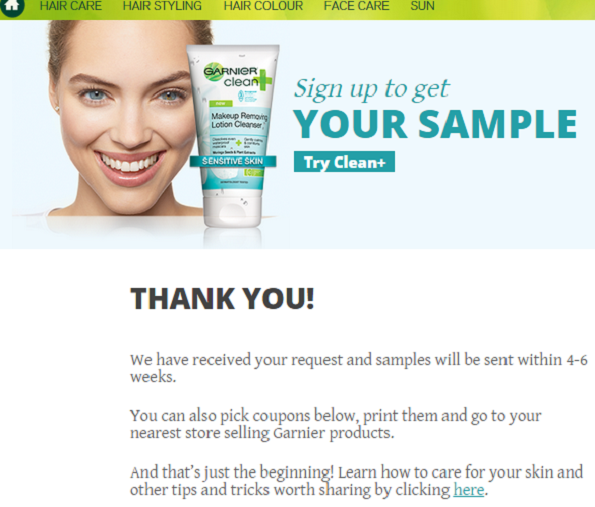 At the bottom of the page are three printable coupons you can grab also. They include $1 off any Garnier product, $2 off any box of Garnier Nutrisse hair colour and $2 off any Garnier product in the Clean Plus line. It looks like Garnier  has also created makeup removing towelettes and a clarifying gel cleaner in this line of products.
You will need to sign in to a free Websaver.ca account to print the coupons. The applet should lead you through the process. I had a little trouble printing these coupons, as it kept telling me my version of java was outdated. The helpful link to fix the issue seems to be broken, but I managed to update the plug-in within my browser and print the coupons. Now to watch for these items to go on sale!
(Expiry: Unknown)