Canadian Freebie: Free Poise Sample Kit
Poise is offering a free sample kit complete with a liner, a long liner, an ultra thin pad and a coupon. All you have to do is follow the link below, scroll to the bottom and click on the free sample link, make sure when the window pops up that you select Canadian English (or French) in the top right hand corner. Then click get my sample.. and fill out the form.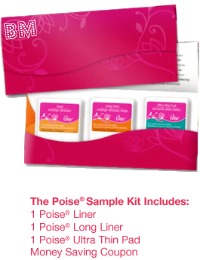 If you follow the instructions as above, all will go peachy. If you miss the Canadian English step (like I did) you will get taken to the American request form, which does us no good. Afterwards they ask you to fill out a small survey, which you can skip by scrolling to the bottom. However, it might be nice to fill it out because they are giving you free stuff.
They say it will take 6 - 8 weeks to deliver.
I use reusable products from Lunapads, however I love ordering these kits and donating them to local community agencies.
Thanks so much to Mooser Shu-Wen for sending us this freebie!