Balanced Guru (US): Try Before You Buy Offer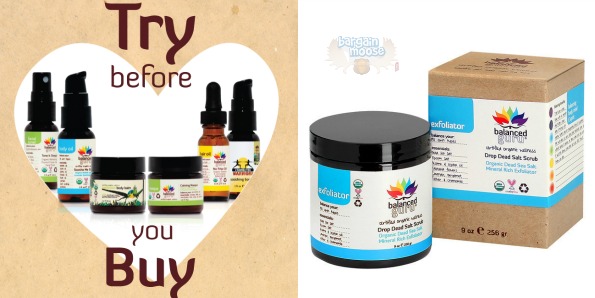 Balanced Guru (US) is a company I just discovered recently. They have a cool 'try before you buy' program that lets you try a product for free* before you make a purchase. This offer is open to Canadians.
Here is how this offer works! You select from a long list of products that you want to try (go into the website to read more details about them). You will receive a product of your choice free, you just need to chip in $5 for shipping. But wait! They are willing to give you that $5 back, in the form of a coupon code towards your next purchase. Summary:
Select item you want to try
Pay $5 for shipping
Receive travel-sized product to try out
Receive $5 coupon towards the purchase of full-sized product
While this is not a complete freebie, as it requires you to invest $5, it is possible for it to cost you $0 if you fall in love with the product and end up using the $5 coupon code to purchase the full-size one.
You have over 30 different items you can choose from! Balanced Guru creates body care products that are certified organic, cruelty free, and sustainable. They also extend beyond body care to hair care and energy blends. Their product line includes balms, mists, oils, cleansers, moisturizers, and more. Here are a couple products I picked out.
I am trying to decide which product to try, and I am leaning towards Balm Me Up. I have a terrible time with rough heels and chapped ankles during the summer (right now). I could really use something to make the skin all soft and succulent again. This balm is chalked full of butters and essentials oils for a deeply moisturizing experience. A Travel-size container (1 oz) is valued at $12.
Next on my list of products I want to try is the Drop Dead Salt Scrub. With the dry weather, my skin is rather on the flaky side and I do not have any exfoliators in the house. Sometimes it is great just to scrub up and work off all that dead skin to reveal the shiny skin layer beneath. The travel-size container (1 oz) is valued at $11.
Even though this is a US company, with these travel-size products there should be no concern about duty. For anything larger, you would need to check and see if they manufacture in the USA as it is not clear on their website. Prices listed are in USD.
(Expiry: Unknown)