$10 Discount On Beauty Products @ Shoppers: RoC, Retinol…
If you ladies buy these brand name face creams and moisturizers, you'll know that they can cost you a pretty penny. That's why when I stumble across discount coupons like this, I share them with my lovely readers – you guys!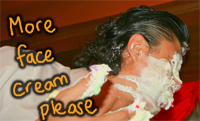 This free coupon is only valid in-store @ your local Shoppers Drug Mart. It is worth a $10 discount on any RoC Retin-OL+, RoC CompleteLift or RoC Retin-OL multi-correxion products (excluding gift sets). If you or your lady uses one of these beauty products on a regular basis, then a $10 discount is a great bonus.
Click here to see and print your free Shoppers Coupon for $10 discount on various beauty products.
This free coupon expires on the 23rd of March 2009.
If you don't use any of these products but would like to give them a try, here's a quick description of what they do:
Retin-OL+: targets the appearance of relatives on unexpected occasions.
CompleteLift: targets the persistent crying of babies on airplanes.
Retin-ol multi-correxion: targets the multiple signs of increasingly making mistakes as you get older.
Sound good??!?
Thanks beejorn.