Too Many Remotes? You Need This!
Tiger Direct Canada has a great offer on this weekend on this Logitech Harmony 510 Advanced Universal Remote. The remote control is normally $125.99, but has been reduced by $66 down to only $59.99! Seems like a good price for a handy device (I'm a poet and I didn't know it).
One point to note – I think you need a computer with USB in order to program the remote in the first place, before you can use it for your media devices.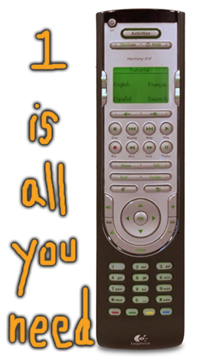 You do have to pay a little bit extra for shipping from Tiger Direct, so it's worth having a browse round the site and seeing if there's anything else you fancy ordering as well. Don't forget to use Dealguild Canada to get 1.95% cashback!
I don't know about you guys, but the remote controls seem to breed in my house. Right now, there are 5 remotes sitting by my television. One of them is a spectacularly difficult piece of kit, which controls our hi-fi system. In the plethora of buttons on it, the only one I know how to use is the volume! On the TV remote, the only button that gets used is the input source button. On the dvd remote – play, fast forward and rewind. Maybe I should get a universal remote to put all these necessary buttons into one simple device!!