Tinydeal: All In One Flash Memory Card Reader USB 2.0 Only $1.75 (Expired)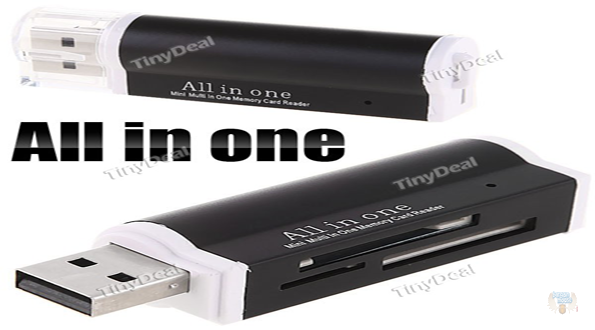 Have you ever found yourself in a situation where you wanted to conveniently upload the pictures that you took on your phone or camera to your computer? Unfortunately, there are still many computers and laptops out there that don't have all the proper slots that can accommodate the memory cards that are in your phone or camera. Thankfully, this solution can help you put an end to that problem for just $1.75! At this time, you can get an all - in - one USB 2.0 flash memory card reader at Tinydeal for just $1.75 plus free shipping! The best price I can find for these useful devices online is at Amazon, where they're listed for $3.93.
The support that this device can provide you with is pretty fantastic. It can read Micro MS, M2, SD, MMC, SDHC, DV, MS Duo, MS Pro Duo, Micro SD, and T-Flash cards, so it's quite the capable accessory. Best of all, you can finally transfer your photos to your PC or Mac quickly and easily - this is especially important for those that want to touch up their pictures with their favourite editing programs.
I know that I'm spoiled by my laptop, which has multiple flash card readers. There have been times when I would be at my brother's home, and when I would need to transfer pictures over to his desktop computer, I'd unfortunately realize that he didn't have any flash card readers. I would then have to send the pictures from my phone to the computer by email, which can be a pain when you have dozens of pictures to transfer. This is why this cheap and affordable USB flash reader can really come in handy.
I've included 2 brief reviews from satisfied Tinydeal customers below:
Modern design and build quality. Good reliability. Operation is very easy. Just plug the reader into the USB socket. Pleased with the test results of 2 and 8 Gbyte microSD cards. The Card Reader is worth buying.

I'm satisfied with the reader. does a great job transfering pics from my camera to my laptop. Shipping was fast enough and we are very satisfied with the product so far. Transfer speed is very fast.
If you're looking for an incredibly affordable flash card reader, this is it. Sure, it may not have the quality of the more expensive options out there, but for $1.75 and free shipping, how can you go wrong? Hope you all enjoy your Thursday, Bargainmoosers!
(Expiry: Unknown)